Filed under Disability, Handicap Equipment
Handicap accessible equipment was designed to make it easier and safer for those who suffer from physical handicaps. Elderly people may also benefit from certain items that can be placed throughout the home.
Handicap accessible equipment can be used inside and outside the home. There are several types of equipment designed to assist the handicapped with daily activities. Wheelchairs, walkers, and stairway lifts are pieces of handicap accessible equipment that can assist those with mobility issues. Other handicap equipment that assist the handicapped also include items used in the kitchen, shower, bathrooms, and even pools and spas.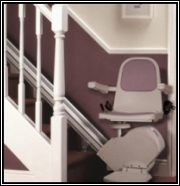 There are several benefits to those who depend on handicap accessible equipment in their daily lives. For a person with mobility issues who rely on wheelchairs, the kitchen can be troublesome and dangerous. Sinks with a wheelchair approach are designed specifically for wheelchair confined individuals. This wheelchair bathroom sink raises and lowers to the wheelchair's level; making washing dishes a safe and convenient chore. Cook tops and cabinets are also made with a wheelchair approach. Cooking on a regular stove-top can lead to fires, and reaching for items in cabinet with spatulas can lead to being hit with falling objects.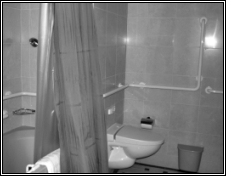 Handicap accessible equipment can make a huge improvement in one's life. Most people who are handicapped are able to live independently, but they must overcome obstacles. Falls in the shower are common injuries. Roll in shower stalls can improve how wheelchair bound individuals shower. Folding tub seats and wheelchairs that are specifically designed for the shower can be used to make showering safer. Grab bars can also be installed to prevent failing and to aid in stability. Handicapped individuals who must work outside the home may find their professional lives can be improved by such items as desks and computer stations made with a wheelchair approach.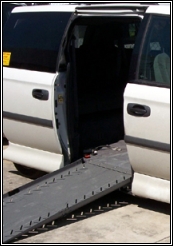 When travelling outside the home, you can have the convenience of handicap accessible vans that provide side entry or rear entry access. These vans or minivans can carry a scooter or wheelchair to your destinations. Some even allow the handicapped user to roll their wheelchair onto the driver's seat for driving.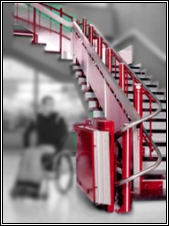 The cost of handicap accessible equipment can be very expensive, and many insurance providers do cover some of the cost of the equipment. Before purchasing any equipment, it is advised to consult your insurance provider to see what will be covered.
Tags: Accessible Equipment, handicap accessible
Filed under Handicap Playground
Normal and physically handicapped children should be encouraged to play together in a playground. Many parks and playgrounds are not handicap accessible and this creates a separation between them.
We must increase the interaction between non handicapped children and the handicapped children and aid in creating friendships and understandings. So how do we begin to create a playground for the physically handicapped while making it user friendly for everyone else? Start by creating wheelchair ramps all around the playground equipment so the children with special needs can go where everyone else can go. Playground equipment should be universally fun for everyone regardless of their abilities.
What to put in a Handicap Playground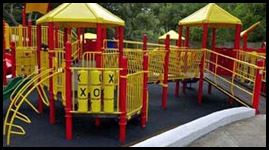 Have low level handicap monkey bars, so children in wheelchairs can reach and pull on them. The American Disabilities Act has a guideline for them to be 53″ high x 36″ wide x 10 feet long.
Handicap Swings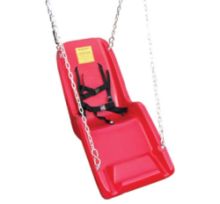 Put swings that have a wider seat with safety belts and harnesses. You can even install swings that can hook on to a manual wheelchair and swing the entire wheelchair. Handicap swings are designed for children who have trouble sitting up or balancing themselves. Such swings for handicapped children is called a JennSwing which supports the entire body of the kid.
Buy Child Handicap Swings
Full Support Child Swings – This swing seat comes equipped with a safety harness and backrest. Has a high back that provides more support for children with special needs. This swing is made out of a sturdy and strong plastic.
Cover the playground floors with a soft material like rubber to cushion the falls. Install railings to assist the physically handicapped children throughout the handicap playground.
As the children play together, they will be more receptive to the differences in all peoples. Handicapped children will also gain more confidence in themselves through play. We must get the proper handicapped playground equipment for handicapped child.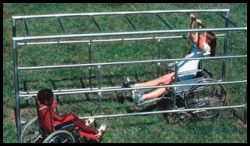 For a list of the nearest handicap accessible parks and playgrounds, visit the NCPAD and search your area.