When it comes to massage, the benefits to the body are undeniable. The use of leg massagers on the legs has numerous benefits, regardless of whether it is an air compression machine or uses a different type of massaging technique. Understanding the benefits can help determine if this is the right option for your household needs.
Calf Massagers
Calf massagers or full leg massagers are highly beneficial to the body. The benefits can differ between individuals, but have a few common features that are advantageous to anyone which include:
Improved Blood Circulation
Stress Reduction
Pain Relief
Improved Resistance to Cellulite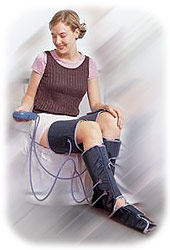 Among the benefits that are common for anyone, three of the four are important for good health. For some individuals, leg massagers serve more than just a general purpose. It is also beneficial in the event some specific conditions occur.
Reduce Leg Swelling
Pregnant women can benefit dramatically from the use of leg massagers. While they might want to avoid heat massaging and opt for a machine that uses air compression or other massaging techniques, it can help bring down some of the swelling in the legs. Since many pregnant women experience leg swelling, having the massager helps alleviate some of the swelling. Compression stockings are a cheaper alternative to reduce swelling but must be worn for extended periods of time and especially when standing. However, pregnant women may have a hard time putting these socks on due to their larger belly. Luckily, there are sock aids that help stretch the opening of the socks and allows for easy insertion of the foot and leg.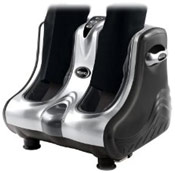 Leg massagers are also helpful to those who have lymph edema. While it should not stand alone as a treatment for the condition, massage is often used as part of the treatment to manage the condition and for those who are experiencing lymph edema in the legs, it might help. In this situation, it is best to talk to a doctor before determining if it will help in an individual situation. Those who have a problem with circulation might also benefit from leg massages due to the improvement in leg circulation.
Relieve Back Pain
For individuals who are suffering from back pain, having a leg and foot massage has been known to help due to the nerves in the foot that connect to the spinal cord. In some cases, leg and foot massages might help improve back pain.
The costs of leg and foot massagers vary depending on the size and type. Price ranges from around $60 to around $500 are typical for many calf, leg and foot massagers. Higher end models might cost more than $500, so it is important to look around to find the best option for your budget.
A leg massager might be a great investment for some individuals. While the relatively high cost might put it out of reach for some, those who are able to afford the massager will benefit with improved health and relaxation.