If recovering from an amputation, foot problems or surgery, adult knee walkers may be of help to you. One leg walkers are also known as adult knee walkers. There are different styles and types of these handicap walkers to choose from. These types of walkers are a great alternative to using standard crutches to get about with foot problems.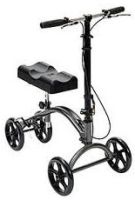 Knee walkers come with wheels that make them easy to maneuver around furniture, tight spaces and around obstacles. To use the walker, kneel and put the knee of the injured foot or leg on a cushioned kneepad that comes with most models. Various models may be steerable and come with a braking system. These walkers can be rented or purchased. Purchase prices start somewhere around $130 up to $400 or more. This depends upon your particular needs and how long you may need to use your one leg walkers.
Benefits of Knee Walkers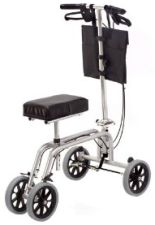 There are many situations where using these knee handicap walkers can be of great value to a patient with an amputated foot or foot problems. With the use of the healthy foot, a patient does not have to always rely on crutches or a wheelchair. Working around the home, cooking, doing laundry, standing for any long periods of time can present painful problems for those with any type of foot injury. The walkers allow movement and support for the foot till recovery. Shopping in large stores, at the grocery store and standing for long periods of time is another example of when this type of leg walker could be advantageous. Unlike using crutches, there is support for the injured foot. The patient with the injury now has support for the injury and can stop and rest the injury. Both hands are free for reaching and shopping for items. As long as the surface is smooth, a patient can scoot just about anywhere.
Maintenance of a rolling knee walker is minimal. Clean and disinfect the handlebar grips as needed or replace. Dry your walker well after using in an environment that is wet or high moisture areas. WD40 can keep things lubricated and also help to stop corrosion problems as well. Rotate or replace wheels that show excessive wear. With proper care, these walkers can last a long time and give much service to the user. In summary, the benefits of knee walkers over crutches for those with foot injuries are many.