Accidents can happen in any part of the home, and the bathroom is no exception. People often have accidents in the bathroom due to slippery surfaces, as well as inadequate support. There are a few simple changes you can make to your bathroom to ensure it is a safer place for everyone in your home.
Easy Changes
One of the easiest ways you can make your bathroom a safer place is by investing in safety treads and anti-slip bath mats. Safety treads and mats are inexpensive and easy to apply. Typically, you can purchase treads for around $8. Mats can be purchased for $10. You can place treads at the bottom of your bathtub or shower just like you would a regular sticker. Mats can simply be placed on the bottom of your bathtub or shower, as well as outside of the bathtub or shower.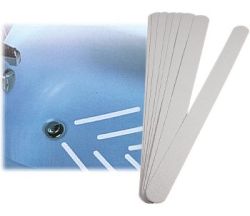 Treads and mats last for a fairly long time. Once the treads become worn, you can easily replace them with a new set. Anti-slip mats are made of durable material and do not need replacing very often. However, to avoid mold from growing underneath the mat, you should regularly clean it with soap and water. Once you clean the mat, let it air dry before placing it back down.
Making Bathroom Installations

Products such as bathroom grab bars can provide any bathroom with additional safety. Bathroom grab bars are usually placed in areas above the bathtub, along the walls, and near the toilet. The purpose of the bars is to provide additional support to those who may have difficulty. The bars are usually placed at an appropriate height so they are easy to grip.
Grab bars can cost anywhere from around $30 to $70. Grab bars are easy to maintain and clean. However, the bars should be checked on regular basis to ensure they are still properly affixed to the wall.

Shower poles are much like grab bars. However, shower poles can be installed directly outside the shower, as well as inside the shower.
Prices for poles can vary from around $30 to $200 depending on the type of pole you chose. Just like grab bars, poles need to be regularly checked to ensure they are properly installed.
Bathroom safety is vital to any home. Both older and younger people can benefit from making safety changes to the bathroom. Not only do bathroom safety products help people who are suffering from an injury or other problem, but they can also help prevent injury, as well.