Reading in bed is a pleasure shared by book lovers everywhere, but it is not entirely trouble-free. Holding a book open constantly can strain your wrists, arms, neck and back.
This is especially true if you suffer from arthritis or other medical conditions. Bed reading aids can make for great bed rest equipment and allow you read a book, write notes and use a Kindle, Nook or other electronic reading devices.
Bed Reading Lights
Partners of night owls may lose sleep if the light stays on for that exciting chapter that just could not wait until tomorrow. Luckily, there are reading lights that clip directly onto the book, book stand, bed or reading tray. These small lights illuminate the page without lighting the room, so they do not disturb the sleep of others. This is an affordable answer for night readers. They are also great for overnight flights or for college students who study in their dorm rooms. Prices vary depending on design, bulb type and battery life. Many are priced under $10 but some may be as much as $50.
Bed Reading Lights – Clip on these bed reading lights where ever you need it. They can be portable with the use of batteries or stationary with an AC power plug. The 28 bright white LEDs and the flexible neck  allows the reader to position the light to where they most require it. Best of all, the LEDs last up to 10,000 hours. That's over 400 days of nonstop continuous use. That's more reading hours than most people can handle in their lifetime.
Bed Book Holders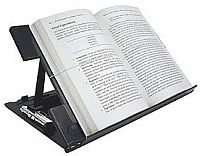 A perfect solution for readers with tired arms who prefer to keep their book close to them is a basic book holder. Some models wrap around the book's cover and lend weight to keep the pages open. These may cost as little as several dollars. Other types include holders that sit on or clamp to a table and hold the book upright. These are useful in the bedroom but can also assist artists or cooks with instructional books. Brands vary in price but most cost between $15 and $50.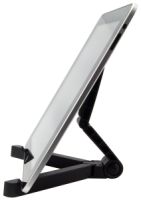 Buy Bed Book Holders – A large firm clip holds books, paper or pages down to the book stand.
Portable Fold Up Stands – Affordable fold up stands for Apple iPads, Nooks, Kindles and other electronic tablets and devices. Easy to use and adjusts to the angles that you need.
Hands Free Book Stands – Has fold out arms to press against the pages and keeps them in place as you read. Easily adjust your book reading angles and height. Able to handle heavy weight books. Rubber rings on base keep book stand in place. Folds flat for storage or travel purposes.
Floor Standing Book Rests
Some holders do not require a table. Floor standing book rests are perfect for those who cannot have a book in their lap. These generally cost around $40 to $100 for basic models. Many offer special features like telescoping poles and fully adjustable positioning range. Floor models are also handy for musicians and those who need their hands free while following printed directions. Over the bed tables are also very similar to floor standing book rests but typically at half the costs.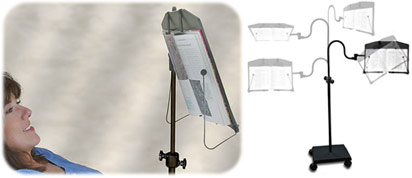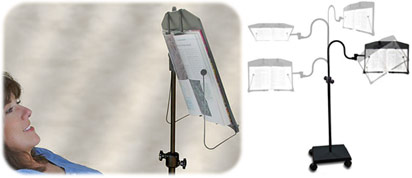 Floor Standing Book Rests – Has page holders and a height adjustable pole. The base is sturdy and has caster wheels for easy movement.
These simple aids benefit many people, and unlike other inventions that simplify life, book rests, book holders and reading lights require no more maintenance than a quick dusting or the occasional changing of a light bulb or battery.