The senior years often require the use of helpful and adaptable aids and equipment to make life more manageable and comfortable. One place in the home where older people are prone to injuries and accidents is the bathroom, especially the shower area where the floors may be slippery. However, having the right type of accessories such as shower poles, grab bars and safety treads are extremely helpful for the seniors' protection and well-being.

As people grow older, a very useful bathroom accessory is the shower poles for seniors, which are usually placed outside the bath door. There are different kinds of shower poles or vertical grab poles, including straight floor to ceiling poles, super poles attached with a curved grab bar for handicap showers and bariatric super poles with grab bar extension. The poles are required to meet the guidelines of the American with Disabilities Act, which include thickness of 1 ¼ to 1 ½ inches, minimum tension force of 250 pounds, sharp-free surfaces and fittings that do not rotate.
Seniors may enjoy many benefits from using shower poles in the home environment such as providing:
Safety and stability in different parts of the house.
Having sturdy support poles that are portable, adaptable and adjustable to fit many ceiling heights.
Easy installation without damaging walls and flooring.
Support for weights up to 300 pounds and super poles for higher weights
Easy maintenance with rust free materials and comfortable ergonomic hand grip.
Cost-effective accessories due to their versatility and affordable pricing, ranging from low $100s to high $200s depending on the type, make and features.
Shower Safety Poles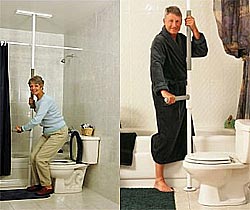 Floor to ceiling poles or safety poles are very useful in many situations around the house where seniors require help in moving and transferring from one position to another. Shower poles offer versatility to seniors who have had joint surgery and who may require assistance in getting in and out of the shower or bath. They provide support when standing up or sitting down while in the shower and help seniors in gaining independence by allowing them to shower and use the commode without getting assistance from others.
Having the appropriate bathroom accessories for seniors and handicap shower stalls is essential in providing a safe, comfortable and adaptable setting in the home. The shower poles for seniors are useful and important aids that offer support, confidence and freedom when using the bath or shower and moving around easily.