Many persons with physical disabilities have difficulty with daily activities such as eating and drinking. Many neurological conditions, such as cerebral palsy, can cause hand tremors or weak grasp and therefore make an affected person likely to spill food and beverages. Clothing protectors such as aprons or bibs treated with stain-resistant sprays are helpful, as are spill-proof cups. Using the two in combination, you can drink without worry of spilling on yourself or your clothes.
What Are The Best Spill Proof Cups
Many different types of cups are sold as spill-proof, from "sippy-cups" for young children to travel mugs for commuting coffee-drinkers. Not all of these are suitable for use by persons with disabilities. Just because a cup has a lid does not automatically make it spill-proof. Many supposedly "spill-proof" cups do spill or at least leak if the lid isn't screwed on tightly.
For the disabled, drinking cups need to be easy to grip and lift with a secure lid that will not pop off if the cup is dropped. In general, twist-on lids with a rubber gasket seal better than those that merely snap on. The opening through which the user sips should be small, easy to open and close, and well-sealed when closed. The base of the cup should be wider than the mouth and slightly weighted, so it won't be easily knocked over by unintentional movement. The cup should also be made of unbreakable material, either plastic or metal.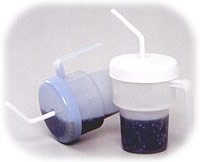 Recommended Spill Proof Cups
Spill Proof Cups – Also know as Kennedy Cups, these spill proof cups can be turned upside and will not spill out once the top is screwed on tightly. Great for someone who has tremors or drinks in bed.
Double Handle Cups – Has a handle on the left and right sides that provides more stability when drinking. Has an easy to use anti-splash and feeding spout.
Cups with Double Handles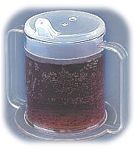 Whether or not the cup should have a handle (or even two handles), and the size and type of the handle, is a matter of personal preference and should be determined by the individual needs of the person who will use it. An occupational or physical therapist can recommend the best type of cup for each person. Those who are unable to pinch a small handle or grip around a cup usually find a large hook-style handle the easiest to use; the hook can fit over the palm of the hand without requiring grip or pinch.
There are many different styles of adaptive cups, designed to help persons with a wide range of physical disabilities. Finding the right cup for each person's individual needs may require a bit of trial and error, but once found it can make mealtimes much easier.
Tags: Handicap Drinking Cups