Filed under Handicap Bathroom
Sometimes the physically able-bodied forget what life must be like for a disabled individual. Even a simple task like taking a shower can be so frustrating. They would have trouble reaching anything in a normal shower.
During showering time, they get tired and there is no place to sit. Their options are to sit on the wet cold floor, shower bench or plastic shower chairs. The bench and chair are both good options but this means standing up to reach for the shower heads and shower handles to adjust the water. They will most likely need assistance, which limits their independence and privacy. By installing an accessible shower, these seemingly simple tasks will be so much easier for your loved one.
Universally Designed Showers for Everyone
Did you know that accessible showers are universally designed? This means anyone can benefit from their functions and not feel hindered. However, it is important to know the needs of individual and what kind of accessible shower will work for them.
Consider the particular needs of the disabled individual that the shower is designed for.
Are they completely wheelchair dependent, thus requiring a roll-in shower?
Or, are they able to transfer from a wheelchair to a seat, therefore allowing them to use a transfer shower?
Or are they sick of the shower curbs that create a dangerous situation when trying to climb over it?
Do they need a place to put their shampoos, brushes and soaps like on shower stands?
These are universally designed showers that are not just for the physically handicapped but for anyone with a desire to increase the safety, comfort and the look of their shower. A low shower threshold can be a welcome addition to any shower stall.
If you are adapting an existing bathroom, you will need to be conscious of the space that you have available as this will also affect your choice of shower. It may not be practical to install a shower enclosure that a wheelchair can fit into, but takes up so much space that the wheelchair cannot maneuver in the bathroom. So you plan ahead for the wheelchair spacing in the bathroom.
ADA Accessible Showers Guidelines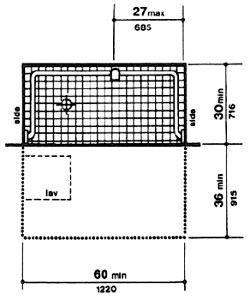 While handicap accessible showers within a private home are not required to meet ADA standards, it is good to be aware of these since they are designed to offer a high level of maneuverability and safety to the user. Grab bars should be 1-1/4" to 1-1/2" in diameter and be mounted 33" to 36" above the floor. Seats should be mounted 17" to 19" above the floor and should be the full depth of the enclosure. Both seats and shower grab bars should be able to take the force of 250 lbs. Controls should be easily accessible from a sitting position and should to be easy to use with one hand. The shower head should be able to double as a fixed and hand-held unit. It's also important that the flooring be slip-resistant. You can check ADA federal requirements website for more specific measurements. Many pre-manufactured accessible showers are already designed to meet these requirements.
We have heard the case for handicapped accessible showers for the disabled but did you know they can actually make your bathroom appear larger? The main selling point was wheelchair accessibility but they can also be perfect for bathroom remodeling. Imagine how much bathroom space will open up without a shower curb obstructing the view.
So whether you have moved into a new home, someone in the family has been injured, or maybe you yourself need a little more assistance than you did in the past, the shower can still be a comforting and private place for each member of the family to relax and enjoy.
Tags: Accessible Equipment, Shower handicapped, Universal Design Showers
Filed under Disability, Handicap Equipment
Handicap accessible equipment was designed to make it easier and safer for those who suffer from physical handicaps. Elderly people may also benefit from certain items that can be placed throughout the home.
Handicap accessible equipment can be used inside and outside the home. There are several types of equipment designed to assist the handicapped with daily activities. Wheelchairs, walkers, and stairway lifts are pieces of handicap accessible equipment that can assist those with mobility issues. Other handicap equipment that assist the handicapped also include items used in the kitchen, shower, bathrooms, and even pools and spas.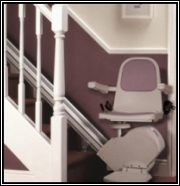 There are several benefits to those who depend on handicap accessible equipment in their daily lives. For a person with mobility issues who rely on wheelchairs, the kitchen can be troublesome and dangerous. Sinks with a wheelchair approach are designed specifically for wheelchair confined individuals. This wheelchair bathroom sink raises and lowers to the wheelchair's level; making washing dishes a safe and convenient chore. Cook tops and cabinets are also made with a wheelchair approach. Cooking on a regular stove-top can lead to fires, and reaching for items in cabinet with spatulas can lead to being hit with falling objects.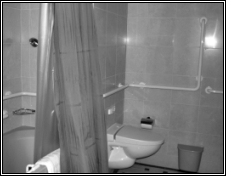 Handicap accessible equipment can make a huge improvement in one's life. Most people who are handicapped are able to live independently, but they must overcome obstacles. Falls in the shower are common injuries. Roll in shower stalls can improve how wheelchair bound individuals shower. Folding tub seats and wheelchairs that are specifically designed for the shower can be used to make showering safer. Grab bars can also be installed to prevent failing and to aid in stability. Handicapped individuals who must work outside the home may find their professional lives can be improved by such items as desks and computer stations made with a wheelchair approach.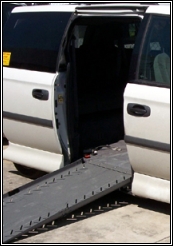 When travelling outside the home, you can have the convenience of handicap accessible vans that provide side entry or rear entry access. These vans or minivans can carry a scooter or wheelchair to your destinations. Some even allow the handicapped user to roll their wheelchair onto the driver's seat for driving.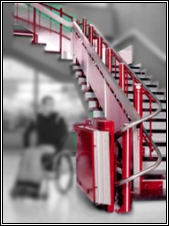 The cost of handicap accessible equipment can be very expensive, and many insurance providers do cover some of the cost of the equipment. Before purchasing any equipment, it is advised to consult your insurance provider to see what will be covered.