If you suffer from pain in your toes, then you already know just how uncomfortable this can be. Whether you suffer from pain in one toe in particular or several toes, you should know that you don't have to live with toe pain. Think about your own toe pain? Is it constant or does it briefly come and go? Does your toe pain throb, tingle, or burn? Perhaps you have painful cramps in your toes. No matter what your specific toe problems are, there is a way to try stabilizing painful toes that cause you to hurt when you walk or apply pressure to your foot.
Whether you suffer from bending toes, hammer toes, claw toes, or overlapping toes, one way to stabilize painful toes is to buy toe loops. A toe loop will provide both a source of cushion and relief for the problem area. They work by securing toes together, which can stabilize a fracture or even correct toe problems like hammer toes and bending toes. Toe loops should be somewhat flexible and even comfortable for you to wear. You can purchase them in two sizes: narrow or wide. The best part is that these loops can be cut or trimmed to provide a custom fit for your toes.
Solutions to stabilizing painful toes do not cost much. A loop for the toe is relatively inexpensive and costs under $20. If you buy the ones that are washable, you can reuse them, which will help cut down on the cost of using them frequently. If you purchase washable loops, make sure you wash them frequently since they are on your body and may soak in any sweat or odors that are on the toes and feet.
Recommended Toe Loops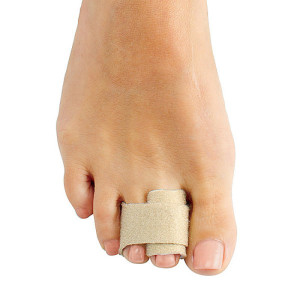 Toe Loops – This is a stretchable strap with a foam lining that wraps around the toes that need stabilization or protection. If you have toes (aka hammer toes) that rub up against the tops of your shoes, you can use this to prevent the abrasion and rubbing.
Benefits
There are some benefits to stabilizing painful toes. By stabilizing the pain, you should be able to walk comfortably instead of avoiding the act of putting pressure on your toes. Once you get the toe pain under control, you should be able to comfortably get your shoes on your feet and wear them for extended periods of time without additional pain. If your toe pain causes other symptoms in your feet or legs, these symptoms should diminish or disappear once the toe pain is gone.
There are also some benefits in your home environment. Think about how much time you spend sitting down in your home just to avoid the pain that movement can cause to your toes and feet. You are missing out on life and the activities that you enjoy around your home. Instead of feeling left out, you can join in the family fun without worrying about the toe pain that you might experience.
There are many situations in which you will find that stabilizing painful toes is useful. If you have a job that requires you to be on your feet for any amount of time, you will notice a difference in the way your feet and toes feel after a day at work. If you enjoy living an active lifestyle, ridding yourself of toe pain can help you get active again, so you can enjoy the activities and hobbies that lead to a happy life.
You have probably already figured out that toe pain can lead to tired feet at the end of a long day. Suffering from tired feet can keep you from taking part in an active lifestyle. Instead of letting toe pain control what you do, take control of the situation and get your life back on a healthy, active track, so you can feel good about yourself and keep you body in excellent condition.