Bathtub rails and safety grab bars are supportive rails especially designed to fit into bathrooms. These safety accessories, for use in either bathtubs or showers, reduce the risk of falls and injuries associated with bathing.
The safety accessories in bathrooms not only assist individuals such as patients, physically challenged individuals and the elderly but also people of all ages and abilities will find them useful. These special safety rails are durable, strong, and designed to handle heavy weight.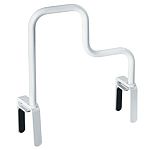 As we age and lose agility, bathing becomes extremely difficult. Falling in the bathroom is the foremost reason of injury. Life can be improved with bathroom safety bars. Bathtub rails and grab bars are useful in providing support and safety needed to maintain balance. When simple movement becomes difficult, bathtub rails and grab bars are the perfect solution to the problem. These devices are in hospitals for good and compelling reasons. After surgery, bathtub rails and grab bars are useful to have in bathrooms because they offer the additional stability and support that is often required after a hospital stay.
Bathtub Grab Rails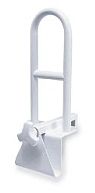 Bathtub rails and grab bars either are mounted on a wall or tub. Grab bars mounted near toilets help to assist individuals that need help using toilets. The mounted bathtub rails offer the same safety health benefits by assisting individuals in getting in and out of the tub safely. They prevent individuals from slipping and falling in the shower or bathtub. With the support of bathtub grab bars an individual can move around more freely and easily without the fear of falling. They are easy to install and secure to use.
Floor to Tub Rails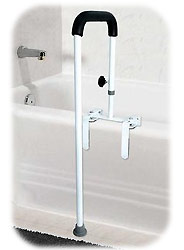 In a home environment, bathtub grab bars are an enormous benefit in helping to prevent the risks associated with slipping and falling in the shower or bathtub and assist individuals in moving about securely without the need to depend on others. Another option for bathroom safety in the home is the floor to tub rails. Floor to tub rails easily attach to the side of the tub and extend down to the floor on the tub. This type of safety rail offers maximum support and stability because the floor is able to support all your weight.
Buy Bathtub Rails and Grab Bars
Bathtub rails and grab bars are useful to anyone needing assistance with safe and confident entry and exit in a slippery shower or tub. Wide varieties are available and range in price depending on the type and size needed. A bathtub hand bar can be made of stainless steel, aluminum or plastic and are available in a variety of sizes, shapes and colors. They are normally inexpensive and reasonably priced starting at $20 to $100. Custom-made rails available could cost considerably more and range in price according to their size and style. Bathtub rails and grab bars are virtually maintenance free and only require the same typical cleaning that any other bathroom accessory requires.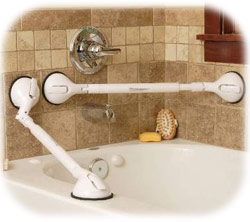 Bathtub rails and grab bars aid in and improve everyday living. They are a quick way to allow people to be more independent and create a handicap bathroom. They improve the life of individuals who have a hard moving or are unsteady on their feet by eliminating the worry about how they will use bathroom facilities or take a shower or bath. Individual with disabilities gain the freedom to access, and use areas of the home that they may not be able to without this type of assistance. At home, the bathroom is one place where many individual need help but want their privacy. The assistance that bathtub rails and grab bars offer makes that possible. Shower grab bars and bathtub rails offer protection from falling and that is not only vital to improving life, but to maintaining a healthy and independent lifestyle.