When mobility and dexterity are problems due to arthritis, diabetic neuropathy or other conditions, handicapped kitchen aids can be the solution.
Purchasing a handicapped kitchen aid for assistance may not seem like a big deal compared to purchasing a handicap aid like a motorized wheelchair or scooter but the benefits can make life so much easier.
Handicapped Kitchen Aids
There are numerous cooking and eating aids available for handicapped individuals that make life in the kitchen safer and more productive.
Jar Openers For More Grip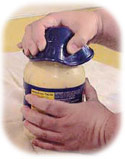 One of the most helpful tools for those with limited strength and hand motion is the jar opener. Jar openers come in various designs. The oldest style jar opener is a simple nonskid, rubber ring placed over the lid to provide more friction and a stronger grip. Another is a metal loop design where the loop goes over the lid and is attached to a handle that works as a lever to open the jar. There is also counter installed jar openers where you put the jar in a slot and twist with one hand. For the least amount of effort, there are electric jar openers that require no physical exertion and can open the toughest of jars.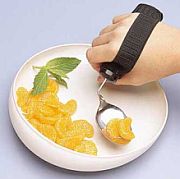 Curved Utensils For Disabled
Another handy handicapped kitchen aid is the curved utensil. Curved utensils are angled to make it easier to get food from the plate to the mouth. They are great for individuals who have trouble with their grip and are designed for both left and right handed individuals.
Higher Seats With Perching Stools
Perching stools are nice to have too and are especially helpful to those who are unable to stand for long periods of time. Perching stools take the weight off the legs and feet so individuals can go ahead with their tasks like peeling potatoes and washing dishes.
High Kitchen Stools – These stools are more like chairs but with more height and many added features such as padded seats, rubber feet grip and sturdy side armrests.
Safety In The Kitchen
Safety is a priority in the kitchen and spills are very common. Non slip plate mats work great for preventing plates and other items from sliding off countertops or tables. They eliminate all that cleanup work that comes from spills and reduce the likelihood of falls.
Large Non Slip Plate Mats – These non slip paper mats have the ability to grip plate and counter surfaces without being sticky. Great for chopping boards, food plates, mixing bowls, and drinking cups.
Other items that can be helpful in the kitchen are trolleys that can help with carrying items from one place to another. Trolleys are especially great for individuals with balance and mobility problems. Check out our longer list of kitchen aids that are exclusively used for cooking and eating that includes, knives, cutting boards, pan holders, special plates, weighted utensils and clothing protectors.
Adaptive handicapped kitchen aids increase independence and improve the safety of handicapped individuals working in the kitchen. For an inexpensive investment towards a more adaptive kitchen area, consider jar openers, curved utensils and non slip plate mats. These are just a start to all the great innovative tools available.