For those who have difficulty walking, even menial tasks such as maneuvering around a household can become an overwhelmingly troublesome burden. Standard straight grab bars are great but they limit the user to only grabbing in one position.
Fortunately, one solution that can be particularly effective is the installation of angled rails. There are many combinations of vertical, horizontal, and diagonal angles to choose from.
Angled Grab Bars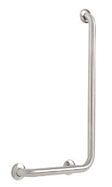 Angled grab bars are comprised of rails that have been bent and attached to a wall. In general, many of these bars are right angled bars which have been bent at exactly 90 degrees. Alternatively, however, it is possible to seek out grab bars that are angled at 135 degrees. For those who have difficulty walking and require something to support their weight on in order to move more easily, having angled bars installed can be immensely valuable. Additionally, installing these bars in the shower can also be advantageous for those who have difficulty remaining standing while bathing.
The environment where angled grab bars are most appreciated is in the bathroom near the shower or bathtub. In this wet and slippery area, having the option to grab from a seated position or a standing position will increase bathroom safety. May sure they are fixed shower grab bars for ultimate support.
Rail Installation Tips
When installing handicap angled grab bars, the most important factor to consider is the walls in which they are being installed upon. The strength of an angled rail is only as strong as the wall it is being attached to, and in many circumstances, walls will lack the necessary strength in order to support a user's weight. Before installing an angled grab bar, always be sure to assess the strength of a wall and only attach them to areas in which the wall will not be damaged by supporting a couple hundred additional pounds.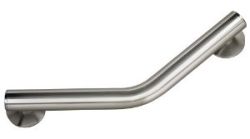 In general, the price of purchasing handicap grab bars can vary immensely depending on the circumstances. For those who require only moderate assistance, purchasing a plastic rail can be as cheap as $10 and will serve its necessary role effectively. For those who require a very sturdy, durable bar, however, the prices can be significantly more expensive. Chrome rails that are capable of fully supporting hundreds of pounds without fail may be more effective than plastic rails, but can often cost over $300.
Recommended Angled Rails
Overall, acquiring an angled rail can be immensely valuable in order to allow users to navigate their homes more easily. For those who have difficulty walking, one of the most favorable options available is to take advantage of angled grab bars.