Parallel bars, also known as walking rails, can be an excellent addition to a home for anyone looking to regain mobility after an accident or to strengthen the upper body. Parallel bars are great for post surgery physical therapy or for someone post stroke. In addition, there are many athletic reasons to incorporate parallel bars into a home setting. Anyone practicing gymnastics or wishing to improve agility and strengthen their upper torso can also benefit from this piece of equipment.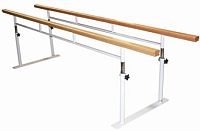 Various injuries and conditions can have a traumatic effect on a person's walking abilities. Strokes, brain trauma, or automobile accidents can leave a person feeling weak in the legs which may require rehabilitation. When learning to walk due to an injury, parallel bars can be of great assistance. Most post surgery aids, such as parallel bars, have been shown to allow for simple rehabilitation for those who may have had surgery on their lower body due to traumatic injury.
Cost of Walking Rails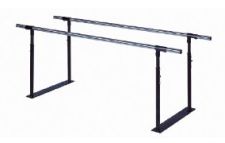 The cost of parallel bars can range from $500 for a single bar galvanized steel hand rail set and up to $3,000 for a professional set including wood rails. There are a variety of styles and prices that can accommodate anyone's budget or taste. Another great benefit is a set of parallel bars are low maintenance and only require a simple wipe-down to keep in good condition.
Buy Recommended Parallel Bars
Walking Rails For Rehab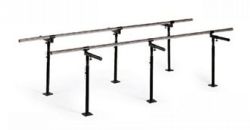 Rails for rehab are useful when applied to a walking program that is designed to get injured people mobile again. For those wishing to gain mobility using parallel bars, the process may take time. Using parallel bars as assisted walking equipment may help patients learn how to coordinate their legs while strengthening their body. With time and dedication, many users of parallel bars have been able to successfully rehabilitate their legs and regain mobility. It should be noted, there is no typical length of time for recovery when using parallel bars. However, these bars can, over time, assist those who must relearn to walk or
Anyone who has suffered from a debilitating injury that has cause problems with mobility is a great candidate for parallel bars. Problems with multiple sclerosis, osteoporosis, or arthritis can also be rehabilitated using these pieces of equipment to safely regain mobility and strength. Furthermore, parallel bars can increase range-of-motion, upper body strength, and confidence while allowing for progressive rehabilitation.