Urinary and fecal incontinence can be disabling and embarrassing, but it is a fact of life for many home-bound patients. Portable bedside toilets provide ease and comfort for people who have trouble making it to the bathroom. Because toilet buckets can be messy, medical suppliers offer commode liners for quick cleanups.
Disposable commode liners are ideal for quick cleanups at home or during travel, and they work with most bedside commode pails. These handy, inexpensive bags are a hygienic alternative to traditional commode cleaning and washing.
Liner bags eliminate contact between caregivers and human waste, so bedside toilet areas stay clean and sanitary. With disposable commode liners, toilet cleaning has never been easier.
Disposable Commode Liners
Disposable commode liners have several benefits for the home environment, and they are also useful on the road. Not only do they protect the health of home-bound patients and caregivers, but they also improve their quality of life. Toilet liners eliminate the messy chore of cleaning portable bedside commodes, and they improve the morale of everyone involved.
Commode liners contain absorbent incontinence pads that are made with special gelling agents. The pads absorb urine and feces, and the gel solidifies the waste to prevent splashes and spills during cleaning. The gelling agent also neutralizes odors and harmful contaminants to reduce the spread of infection. Commode cleanup is fast and efficient. 

Most disposable commode liners are good for three to five uses. This usually means a full caregiver shift. Most liners are latex-free, so they are safe for people with sensitivities that harm skin. 

Portable toilet liners save time and the environment. Cleanup means a simple seal and toss into a garbage can after use. Biodegradable bags are eco-friendly and approved for land-fills. 
Disposable Commode Liner Costs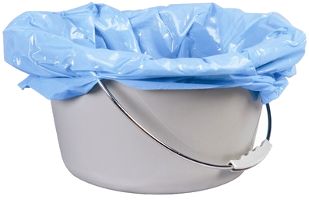 Disposable commode liners are available in several different quantities and box sizes, and they are priced to suit any budget. The typical cost ranges from $30 for a pack of twelve bags to more than $300 for a case of toilet liners.
Consumers can purchase commode liners from most medical supply stores and some online retailers. Most businesses offer several payment options and delivery methods. Return policies vary by company.
Disposable Commode Liner Maintenance
Disposable commode liners require very little maintenance, so they are easy and convenient to use. Cleaning bedside commodes involves lifting the used bags out of commode pails, sealing them with adhesive strips and tossing them away. This easy, 30-second cleanup replaces the ten minutes it normally takes to wash and sanitize portable bedside pails.
Commode liners are indispensable aids for caregivers of home-bound patients. They are also hygienic for the patients themselves. They offer a good alternative to traditional cleanups after the less comfortable moments in life.
Tags: Bedside Commodes