Handicap Bedroom, Handicap Equipment
Chair beds are an innovative utility for homes with minimal space and are also an excellent way for anyone to sleep comfortably.
These pieces of furniture are both fashionable and flexible with the ability to fold and be stored in almost any compartment of the home. Not only do they help to provide a bed for family members and overnight guests, there are also many benefits for those living with certain medical conditions and disability. Within recent years, the chair bed has gained more popularity as standard furniture in any living space.
Chair Bed Benefits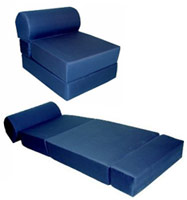 The chair bed is a functional piece that can be used to accommodate already existing furniture. Chair beds are manual fold up beds and chairs that can also be used as handicap recliners for those with physical disabilities. If you are looking for electric reclining chairs, consider handicap recliners or lift chairs that are capable of reclining to angles of 120 to 180 degrees. However, be prepared to pay upwards of $1000 to $1500 for such models.
It is often times difficult for people with mobility limitations to get in and out of bed. For individuals who are handicapped, chair beds allow for significantly easier chair to bed transfer. Chair beds may also be a more comfortable option for those with back and spinal cord injuries.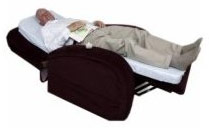 It is said that sufferers with acid reflex disease (GERD) should sleep in slightly elevated lift chairs in order to prevent their stomach acids from reaching the esophagus. Millions are plagued with this reoccurring ailment and are unaware of the steps they should be taking in order to curb their symptoms. Chair beds can be very beneficial to those with acid reflex disease, as they work to elevate the upper half of the body. It allows sufferer's to maintain a straight position during the night which helps to relieve pressure from the upper abdomen. Individuals with edema of the legs may find the chair bed to be comfortable as well.
Costs of Chair Beds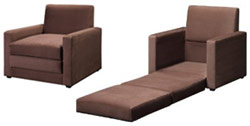 Chair beds can vary in price depending on the brand. They usually cost $200 to $300 at the very highest. As stated earlier, the electric models of chairs that can turn into beds cost $1000 to $1500.
Chair Beds To Buy
A chair bed should never be machine washed, dry cleaned or bleached as this could damage the material. Most chairs contain covers which can be machine washed freely.