Selecting a walker to fit your mobility needs is an exciting step towards an active life. If you are sifting through the choices of available handicap walkers, a lighter walker with three wheels is a smart solution. Tripod walkers are an ideal mobility solution for someone seeking extra support as they make their way around the house or out in public.
A tripod walker is meant to be used as an aid for someone who is seeking help in walking and mobility, but may not be a good fit for someone who is completely dependent on the structure and stability of a four wheeled walker in order to remain upright. For example, someone who weighs over 250lbs would probably require walkers for obese people for that extra stability.
Three Wheel Walkers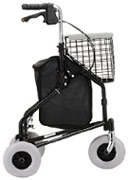 The benefit of three wheel walkers is that they allow you to move with increased maneuverability over their four wheel counterparts, and compared to portable walkers with four wheels, a tripod walker is substantially lighter. The pointed shape allows for dynamic movements, while maintaining a sense of stability. This three wheeled ingenuity adds a greater sense of stability than the very common two wheel walkers.
Having the sturdy assistance of three wheels can benefit anyone who suffers from shortness of breath, arthritic pain, dizziness, or a physical injury that impedes balance. A walker can be a lifestyle aid or simply a transitional aid for use as a wound or injury is healing. Additionally, it is easy to add walker accessories and make it a travelling buddy.
Since they are smaller and lighter than their peer portable walkers with more wheels, tripod walkers often cost less. A basic walker with three wheels can be purchased for as low as one hundred dollars. Many varieties are available for between one hundred and two hundred dollars.
Recommended Three Wheel Walkers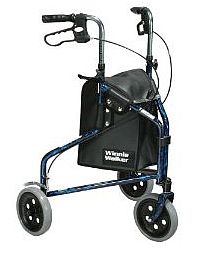 Three Wheel Rollators – This walker comes with carry pouch, adjustable height and folding options. Highly reviewed by users.
Three Wheel Travel Walkers – Great travel companion with 8 inches for any floor surface and a big basket in front.
Folding Tripod Walkers – Folds up easily for transport and storage. Lightweight and simple three wheeled design.
The use of three wheel walkers as a domestic aid inside a home is very ideal. The pointed shape and aerodynamic design allow the user to make tight corners with ease. They are also light enough that it is easy to transport them out for a day of shopping or enjoying outdoor walks.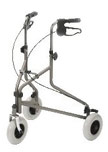 In order to get the most efficient use of your walker, some minor maintenance is recommended. Checking the air pressure of the walker's tires, as well as cleaning and lubricating the components are a way to keep a walker in top shape.
The safety and comfort that comes with the use of a tripod walker can enhance your quality of life and leave you feeling more independent.