Safety bed rails are frames that can be installed on both sides of a bed that protect a person from falling out during sleep. They are also used to assist the disabled or elderly when they need to get up and out from a bed. Bed rails come in different designs and materials to suit individual needs and budgets. If you know someone who is constantly rolling around in bed at night, then safety bed rails are absolutely necessary to ensure their safety.
Bed Rails For The Elderly And Disabled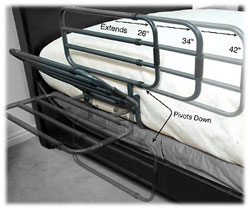 Older children and adults can benefit from using bed guards. Certain medical conditions or physical limitations can hamper an older person's ability to sleep safely on a bed. Bed safety bars not only prevent people from falling out of bed during the day or night, but they can be used to move into various positions. They can also be used as bed transfer bars that assist in bed to wheelchair transfer. Having a handicap transfer board in addition to a bed support rail or bar can make the transition much smoother. Bed assist products like this are very useful for the elderly, who have more fragile bones and can suffer very dangerous consequences from falling out of bed. Use these elderly bed entry assist devices to steady their movements into and onto the bed.
For added security, double sided bed rails can provide safety and stability on both sides of the bed so you will not have to worry about your elderly loved ones rolling out of bed at night.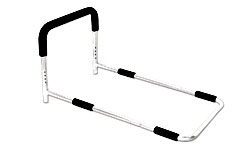 Safety Bed Rails For Children
Parents often install bed safety bars on their toddler's bed. While baby cribs have tall sides which protect children from falling out, regular beds lack the framework to keep children on the bed and off the hard floor. Even after outgrowing their cribs, children's bones are far from being fully developed and a fall off a bed can result in sprained or broken bones. Use single bed rails or double sided bed rails to protect a child from falling down on the bed.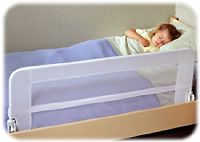 Depending on the size, model and manufacturer, the cost of new safety handicap bed rails can range from the low $30 to more than $100. Bed rails are a safety precaution that can be used at home or in public facilities such as hospitals and nursing homes. These helpful safety bed rails help protect people of all ages.
Toddler Bed Rails – Prevent your child or toddler from rolling off the bed. Can be easily folded down during the daytime. 4 feet long and 20 inches high. Put two on each sides of the bed for extra added safety. Very affordable.
Buy Recommended Safety Bed Rails
30 Inch Bed Rails With Pouch – This bed rail can be collapsed down to the side of the bed when not in use or during bed transfers. Holds sturdy to the bed frame for maximum support.
Adjustable Bed Safety Rails – These adjustable bed rails works similar to the bed rail above but can be used at 26, 34 or a maximum extended length of 42 inches. Choose the size that provides the best protection. Bed rail stays in place even when bumped due to the added two straps that attach to the bed frame.
Bed Assist Handle – Highly recommended by users and costs below $50 for a simple bed grab bar.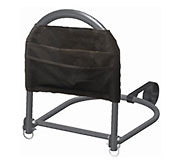 If you are looking for a portable option that allows you to bring a safety bed rail to hotels or other places of sleep, consider these two options. The installation process is easy. Simply put the bed portion in between the mattress and box spring. The weight of the mattress and a strap to attach to the bed frame will help the bed rail stay in place.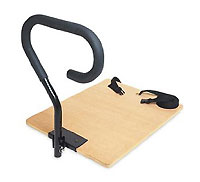 Bed Rails Give Better Sleep
Bed rails improve quality of life in different areas. They provide physical safety during sleep, especially to people with delicate bones, when you cannot afford handicap beds. Consequently, when people sleep securely, they sleep more soundly and obtain a better quality of sleep. They wake up refreshed and well-rested.
A safety bed rail also gives people a greater sense of independence. During sleep, they do not have to be watched as often, and they can use that extra assistance the rail provides to pull up or otherwise move their bodies. Those who are taking care of the person will sleep better known their loved ones are safe in their bed.