Full length mirrors are stylish additions for your bedroom, but are also an ideal method of adding a spacious feel to any room of your home. The most popular designs are the free standing style and are available to match any décor. There are many beautiful and functional styles available that cost from $200 to $300, making them easily fit any budget.
Handicap Mirrors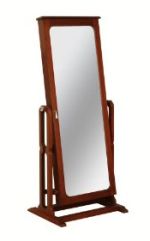 While full length mirrors are of great assistance to everyone, they are almost a necessity when choosing suitable floor mirrors for wheelchairs and their occupants. The standing Cheval mirror is easily tilted to the angle best suited for viewing from any angle. These wheelchair mirrors allow the ability to fully view yourself after dressing and before going out into the public.  It provides the confidence of knowing the image we reflect to others and that no detail has been overlooked. These handicap mirrors come in very handy when using dressing aids from a seated position.
Wheelchair Mirrors
A full length mirror is not only a grooming asset, but can also be a functional decorative addition to your décor. There are even designs that provide a dual purpose of extra storage for clothing, jewelry or decorative items. One example is a tilting wheelchair mirror that opens to reveal lined storage compartments for all your jewelry. Another design rotates to reveal five shelves that easily accommodate sweaters or other clothing, providing that often needed extra wardrobe space. A beautiful contemporary swivel storage mirror will provide a special touch to the living room, with a slanted full length mirror on one side and four shelves on the other, to display decorative items to enhance the décor of the room. All of these unique designs can be found for less than $300.
Buy Full Length Mirrors
When choosing one or more of these mirrors for your home, finding the right color or design is never a problem, as they are crafted from many materials, from chrome and other metals with various finishes, to every wood type and color your décor may demand. Whether modern, contemporary, antique or traditional, there are multiple mirror designs from which to make your selection. Just make sure the mirror is installed low enough to the floor where a full view of your electric wheelchair, transport wheelchair or regular wheelchair is visible.