Filed under Handicap Bathroom
Have you noticed yourself physically straining to sit down or stand up from a toilet lately? Did you recently undergo a surgery and now require post surgical aids in your bathroom? Or are you a  taller person who hates squatting down really low to use the toilet? By making your toilet seat higher by a few inches, using the toilet will no longer be strenuous or painful.
Higher Toilet Seats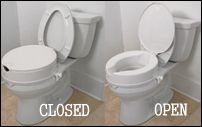 For people that have suffered injury or have other physical limitations, raised toilet seats can be more than a convenience; they can reduce pain, fatigue and promote healing since less stress is being placed on injured areas. A higher toilet seat can mean less anxiety, too, for those who know they will have a difficult time standing up from a low sitting position. It is also great for camping trips and outdoor sports to ensure hygiene in public bathroom and portable toilet facilities.
So what is the basic cost of toilet risers? How can you make your toilet seat higher to improve your health? Is there any special cleaning or care for higher toilet seats involved? Let us take a look at some of the basics.
The Cost
Depending on your specific needs, raised toilet seat attachments may cost anywhere from $15 to $70 or more. Basic models are made of molded Polyethylene and other lightweight, durable plastic or synthetic material.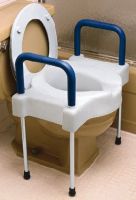 Most models are also portable, making them easy to carry with you on trips or vacations. There are models available with detachable handles, too, for added stability and ease of use for those that need assistance rising. Be sure to check the information about weight capacity before purchasing a raised seat, as some do come with weight limits and restrictions.
Higher Toilet Seat Options
Cleaning Raised Toilet Seats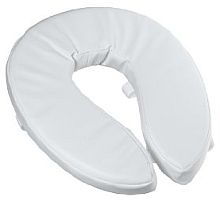 The best raised toilet seats will be easy to clean with little hassle. Typically, wiping down a toilet riser with a proper disinfectant after every use is enough to keep it safe, hygienic and free of odors. Anti-bacterial towelettes, wipes, scrubs or sprays are usually safe to use on raised seats, but it is also important to wipe them down with water afterward to clean away any residue from these cleaners that might irritate skin.
If you have any questions about proper care or cleaning, you can always contact us or call the manufacturer or your doctor for more advice. Making your toilet seat higher with a raised seat can be a great option to consider if you or a loved one needs added comfort in the bathroom, at home or on trips.
Tags: Higher Toilet Seats, Raised Toilet Seat with Safety Rails
Filed under Handicap Bathroom
A simple trip to the toilet can quickly become an ordeal for those with limited mobility due to age, disability or recent surgery. The strain of lowering oneself onto the toilet and getting back up again can pose a challenge or a health risk for individuals in the aforementioned groups. But there are helpful solutions to these problems. Toilet risers add inches to the height and can restore privacy, allowing someone with limited mobility to use the bathroom without help. There are a few types of toilet risers that you can buy.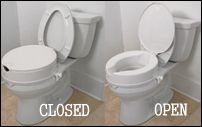 Toilet seat risers often fit over an existing toilet seat; this variety comes in foam and hard plastic. A foam toilet seat cushion sits atop the toilet seat, raising it several inches. Raised toilet seat cushions heighten the toilet, reducing strain and difficulty for those who struggle to use a traditional toilet. Cushions are relatively inexpensive, starting at about $10. However models featuring high-density foam can cost $90 or more.
The hard plastic riser looks very similar and, like the cushions, sits directly atop the toilet seat. Plastic risers start at about $20. These hard plastic toilet risers can add 4+ inches to your toilet sitting area and will not sink down when you sit on them.
Toilet Risers with Arms
A second variety of toilet riser is a separate structure that sits over the toilet, instead of sitting directly atop the toilet seat. A variant of this is toilet safety rails with arms. The arms extend upwards from the seat and help the user with balance and stability.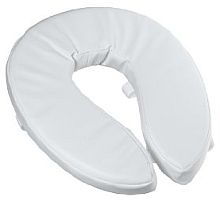 A third type of riser, a toilet spacer or toilevator, fits under the entire toilet instead of over the seat. This variety is costlier, with prices around $100. The installation is also a bit tougher and requires removal of the whole toilet. However, they can blend seamlessly with the toilet. You will not visibly see the changes but you will definitely feel the difference when you do not have to bend down so low.
List of Best Recommended Toilet Risers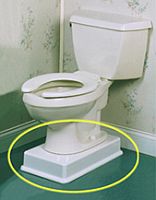 After installation, which can vary widely in difficulty depending on the model, some maintenance is required for most models of toilet raisers. Just like other parts of a toilet, risers require regular cleaning. The toilet spacer requires less cleaning because it sits at the base of the toilet, however the installation is more labor intensive.
Consider toilet risers for the elderly, for those who have recently undergone surgeries, such as a hip replacement, and for those with disabilities limiting movement. These devices can make life easier for everyone while reducing the risk of injuries and falls.
Tags: Bottom Install Toilet Seat Risers, Raised Toilet Seat with Safety Rails