Filed under Handicap Bathroom
A simple trip to the toilet can quickly become an ordeal for those with limited mobility due to age, disability or recent surgery. The strain of lowering oneself onto the toilet and getting back up again can pose a challenge or a health risk for individuals in the aforementioned groups. But there are helpful solutions to these problems. Toilet risers add inches to the height and can restore privacy, allowing someone with limited mobility to use the bathroom without help. There are a few types of toilet risers that you can buy.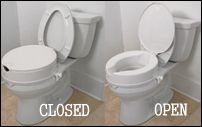 Toilet seat risers often fit over an existing toilet seat; this variety comes in foam and hard plastic. A foam toilet seat cushion sits atop the toilet seat, raising it several inches. Raised toilet seat cushions heighten the toilet, reducing strain and difficulty for those who struggle to use a traditional toilet. Cushions are relatively inexpensive, starting at about $10. However models featuring high-density foam can cost $90 or more.
The hard plastic riser looks very similar and, like the cushions, sits directly atop the toilet seat. Plastic risers start at about $20. These hard plastic toilet risers can add 4+ inches to your toilet sitting area and will not sink down when you sit on them.
Toilet Risers with Arms
A second variety of toilet riser is a separate structure that sits over the toilet, instead of sitting directly atop the toilet seat. A variant of this is toilet safety rails with arms. The arms extend upwards from the seat and help the user with balance and stability.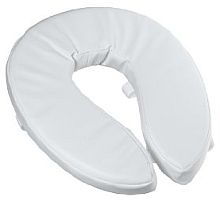 A third type of riser, a toilet spacer or toilevator, fits under the entire toilet instead of over the seat. This variety is costlier, with prices around $100. The installation is also a bit tougher and requires removal of the whole toilet. However, they can blend seamlessly with the toilet. You will not visibly see the changes but you will definitely feel the difference when you do not have to bend down so low.
List of Best Recommended Toilet Risers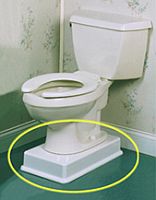 After installation, which can vary widely in difficulty depending on the model, some maintenance is required for most models of toilet raisers. Just like other parts of a toilet, risers require regular cleaning. The toilet spacer requires less cleaning because it sits at the base of the toilet, however the installation is more labor intensive.
Consider toilet risers for the elderly, for those who have recently undergone surgeries, such as a hip replacement, and for those with disabilities limiting movement. These devices can make life easier for everyone while reducing the risk of injuries and falls.
Tags: Bottom Install Toilet Seat Risers, Raised Toilet Seat with Safety Rails
Filed under Handicap Bathroom
If getting on and off of the toilet has become a chore for you, then consider getting an higher toilet seats that is raised for your needs called an elevated toilet seat.
Elevated toilet seats can provide both comfort and safety by decreasing the distance you must travel to sit and stand. It is not only limited to the disabled and elderly but can serve a purpose for post operative patients and those with hip or knee pains.
Why does decreasing the toilet distance make a difference?
Imagine a very low toilet. Squatting down to the low toilet would require plenty of strength and put some physical strain on your knees and hips. Now imagine a toilet higher than the one you use now. There would be less bending at the knees and hips. It would also take almost no effort to sit down.
Who Can Use Elevated Toilet Seats?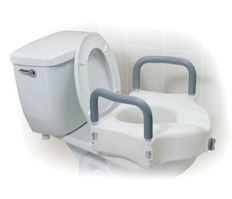 Elevated toilet seats are effective for those who have lost any amount of power and mobility whether due to age or injury. The necessary range of motion is lessened by an elevated toilet seat, which makes bending, sitting, straightening, and standing much easier.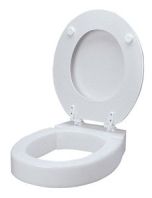 An elevated toilet seat is a durable, safe, and effective option that can make daily habits much more comfortable and convenient for you or those you love.
There are various styles to choose from such as clamp-on seats, seats with or without handles, cushioned seats, seats with legs that extend to the floor, and even seats with arm rests.
Some seats are made with deeper front and rear cut out areas to facilitate easy personal cleaning.
A splash guard is also available on some elevated seats.
Seats can come with or without lids. Some are designed with adjustable heights.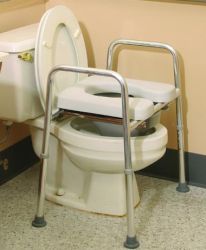 Removable armrests like toilet safety rails, are a great feature if someone will be transferring back and forth from a wheelchair.
There are also toilet risers with legs, like the image in the right, that provide extra support and stability for someone sitting on a elevated bathroom toilet seat.
Other options include antimicrobial properties on the seat.
Raised Elongated Toilet Seats – This raised toilet seat fits in between your elongated toilet bowl and toilet seat. It adds 3 inches to the standard height.
Buying simple elevated toilet seats can range anywhere from $30 to $50 dollars, while added amenities can raise the prices up into the hundreds of dollars. Bathroom toilet seats can be found in very simple and basic styles as well as quite luxurious and fancy. Check out our online store for a good selection of styles and prices.
Bathroom Toilet Seats Installation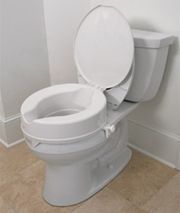 Installation and maintenance is relatively easy for most seats. Most raised toilet seats fit right on top of a standard or elongated toilet bowl. Many seats simply lock into place using brackets and no tools are needed. Though they are extremely stable and safe, the elevated seats can also easily be removed to accommodate others using the same toilet. Hinged toilet seats can simply be lifted and lowered between users. This type allows for easy cleaning. There are also bottom install toilet seat risers that blend in with the original toilet because they are placed at the foundation instead of the top.
Bottom Install Toilet Seat Risers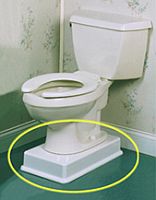 Turn your short bathroom toilets into tall bathroom toilets. Taller bathroom toilets can help those after hip or knee surgery and for people who have squatting problems. But there is a slightly greater degree of difficulty when installing toilet seat risers that are placed on the ground because the entire toilet must be removed and then placed on this pedestal. If this is not a concern, then you can add on 4 inches of height and not worry about any unsightly toilet riser tops. They also are capable of supporting up to 500lbs of weight. Here are two recommended bathroom toilet seat risers.
Toilet Seat Elevators
Toilet seat elevators are usually the bottom install toilet seat risers that were discussed above. Instead of placing the increased height on the surface of the toilet seat, it is placed on the ground level. These toilet seat elevators blend in seamlessly with the bathroom environment. Most people will not notice until they actually sit on one and discover how much easier it is to sit down and stand up from the toilet.
When Travelling And Using Public Bathrooms
If using public restrooms is difficult, investing in a portable, lightweight elevated seat is a great option. Since they are easy to install, they can be taken from place to place to ensure maximum comfort and ease wherever you are. In your private accessible bathroom, they should be permanent fixtures that will reduce your strain while standing up from or sitting on the toilet.
Tags: Bathroom Toilet Seats, Bottom Install Toilet Seat Risers, Toilet Seat Elevator