Recurrent back pain can be triggered by just about anything. Lifting items incorrectly can cause back pain. An accident of some kind can be another cause. Some people also can have a slipped disc.
The most common is pain across the lower back that travels into the thighs or lower regions of the body. A disc that bulges out between two vertebrae is called a herniated disc. Medicine can help ease the pain but there is also equipment available for treating recurrent back pain.
Recurrent Back Pain Equipment
Massage Recliner Chair
A good massage recliner chair will help with lower pain in the back. These chairs can perform many massage tasks such as Shiatsu massage, Swedish massage, deep tissue massage and many others. The Shiatsu chair has rollers to stimulate your acupuncture points. Deep tissue massage gives you a soothing and penetrating relief. It will help relieve sore and aching muscles. Using the most highly reviewed, rated and best recommended back pain equipment can increase strength, improve flexibility and reduce pain. The best chairs will have a full body heat in the back, the seat and footrest. These recliner chairs will help give you relief.
Realignment Devices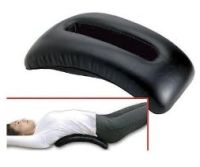 There are also realignment devices that you can use designed by a chiropractor. This device will use the body's own weight to apply pressure to the spine. You can use this at home to encourage realignment to your back. After using this device, your spine and back should feel like it is in a proper shape. You can use soft back braces so you can prevent further damage. You will need a brace that puts pressure right over the bad area. Sometimes this device can result in instant relief. Consult your doctor before using such devices as they may cause more harm than good if used incorrectly.
Exercise is the one of best weapons against back pain. You can use a neck and back pain program that will reduce pain from your neck, shoulders and relieve fatigue. This will produce straight and flexible posture for the rest of your life.
Standing for long periods can also be your problem causing all the recurrent back pain.
Using a chiropractor can also give you back the quality of life.
Forms of physical therapy to acupuncture can help.
Having a good mattress will help also.
You can take Epsom salt baths. This will relieve muscle tension, pain and will dump the toxins out of your body.
Making changes in your diet will also improve your life.
Treating the pain in your back has risen over 50% in costs. Prescriptions drugs are higher, diagnostic tests are higher too. Frequent visits to the doctor are also a costly thing. The expensive massage chairs can start from $500.00 and up. There are also zero gravity recliners that cost a bit less but can provide back relief. Sometimes your insurance will pay for some of this treatment and devices. Studies have shown that treating pain in the back has really gone up. It depends on what treatment you are doing and what equipment is needed.
Buy Recommended Back Pain Aids
Reclining Massage Chairs – Several back massaging techniques are built into the reclining chairs. Easily control this chair with a remote and increase blood flow through massage.
Heat massaging Shiatsu Cushion – Your back and shoulders are massaged while a warm heat is applied. Fits on most chairs that have a sturdy back.
Back Spine Stretcher – Relieves back aches and pains by stretching and gently reducing pressure.
Today, you are not alone. It is one of the most common problems today. The kind of treatment depends on what kind of injury is ailing you. There are a lot of options to consider. Getting back the quality of your life is very important.