For those with a disability, a handicap toilet bench can be a godsend.
Being able to use the bathroom is one of the simplest human functions, and with handicap toilet benches almost all will be able to regain this function, without accidents or messes. It is a very empowering device for the individual, and no home that has a disabled occupant should be without one. Check out the images below of toilet benches with sliding features, safety frames, and commode options.

What a handicap toilet bench consists of is essentially a bench that surrounds the toilet, enabling the user to maneuver independently on to the toilet. After the user has finished using the handicap toilet they can easily maneuver off of the device and back into their wheelchair or other form of mobility. This empowering device enables one to be able to individually use the toilet without assistance from others.
In the past, people would use a transfer board or learn the wheelchair to toilet transfer techniques in order to get on a toilet. A toilet bench makes the whole process a lot more stable and provides a wider landing area.
Toilet Commodes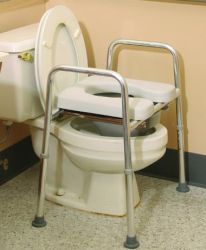 This works like bench but instead has a bucket or pail underneath the seat to collect the waste. Some models allow you to remove the bucket and place the commode on top of the toilet. This has an added benefit of raising the standard toilets height. Most toilet commodes also come with safety rails on the side for extra support during transfers.
One should pay attention to the manufacturer's details to see if the device complies with ADA standards for lavatories and water closets. In private homes for your own use, pay more attention to your own toilet measurements and how much space is available, not the ADA requirements.
The benefits of this device are almost endless. With the empowerment that comes from being able to do simple functions individually again, a person's morale is boosted and they can enjoy a more fulfilled lifestyle. According to the psychological principle of Maslow's hierarchy of needs one needs to be able to perform tasks such as using the bathroom individually in order to begin feeling fulfilled in their life. With this device one can satisfy the most basic principles of Maslow's hierarchy, and move on to more complex fulfillments.
This device would be useful in almost any setting in which a person with a disability would be living or working in. Offices, nursing homes, private residences are all examples of places that would be great for a handicap toilet bench. They are also reasonably priced as well. From the starting price of around $80 for one toilet bench (a very basic model), anyone can buy toilet benches and make any location handicapped accessible.