Disabilities can be frustrating when even everyday tasks seem out of reach. While computers, for instance, can provide a way to connect to the world without even having to leave the house, they can seem more trouble than they are worth if hand tremors or weak limbs make typing cumbersome. That is why writing and typing aids for the disabled are so important. There are ways to make writing, typing, eating, drinking, using household appliances, and many other everyday activities available to people living with disabilities, whether the symptoms are mild or severe.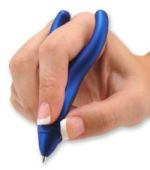 With a simple aid, the ability to write down a number while on the telephone can be returned. A person dealing with a disability can have the comfort and ease of leaving a note or typing an email. These products allow a disabled person to find online support groups or information about their conditions if they're so inclined, or just log into websites to see photos of their grandchildren. Being able to write and type is a very useful capacity in the modern world – and it can be returned to someone whose condition has made it difficult.
Buy Best Recommended Writing Aids
Relaxed Hand Writing Aids – Support your writing device on this aid and improve your hand dexterity.
Ergonomic Pens – This pen fits the contours of your hand and removes the requirement of gripping a pen.
Comfort Grip Handle Attachment – Provides a large area for gripping and is perfect for people who have trouble holding small tools, toothbrushes, crochet needles, pens and pencils.
Typing Aids For the Disabled
Typing Aids – If you have limited hand functioning, place this device on your hand and use it to type easier on computer keys, press telephone buttons or small calculators. Easily and accurately apply pressure to one button at a time.
Many different devices are available to assist with writing and typing. Some handicap writing aids have been invented which can provide additional support in order to help relieve stress that writing can cause. Others have been specifically designed for individuals who suffer from tremors, and can steady the arm or hand to allow for comfortable writing.
Hand and Arm Tremors Aid – Buy this expensive tremor aid to control your hand and arm motions. There is a tension adjuster that counteracts the tremors in your arm. Once the user places their arm into this device, they can use their own hand to feed themselves, write or turn pages in a book.
Weighted Pens
Weighted pens for tremors can trigger sensory feedback to the brain and help mild hand tremors. For a patient suffering from an auto-immune or neurological disease, such symptoms can be constant issues, so a tool to relieve some of the effects is hugely appreciated. By using weighted attachments that work for a pen or pencil, one can achieve the desired weight for tremors.
Heavy Weighted Pens Attachments – Weighted handicap pens can reduce some hand tremors. It provides an even weight distribution along your hand and a soft cushioned grip. Use these weight attachments for your favorite pen or pencil.
Costs of Writing and Typing Aids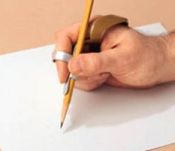 Writing and typing aids for the disabled do not have to be expensive, high tech gadgets. Simple, ingenuous designs can allow for greater ease and flexibility, and all for very low cost. Such pieces of equipment can often be carried around without any trouble, or when appropriate, attached to a wheelchair. The easy use, transport, and maintenance of items like these make them worth the minimal investment. If writing and typing problems can be solved with economical implements, there's no reason not to try.
Disability aids can make all the difference in a world where writing and typing can have a major impact on lifestyle. Simple methods of assistance are surprisingly efficient, and low-risk, and may make all the difference.