A wheelchair cushion is the most important accessory of a wheelchair but is often the most overlooked. It is the cushion support that gives a person a sense of comfort and the confidence to travel long distances. Wheelchair cushions are made to provide quality support to their users who spend extended amounts of time in a sitting position. They are designed to assist a person's overall body posture, and should match a person's body figure. No one should ever feel uncomfortable because of a poorly made cushion to where it bottoms out or they are slipping on the cushion cover.
Choosing a Seat Cushion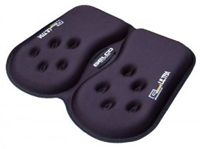 There are many factors that are used to determine the best wheelchair cushion for a particular individual. Their physical needs, transportation needs, how they handle a wheelchair and daily activities all should play a role in choosing an adequate cushion. The best seating solution for a physically active individual will differ from someone who is limited with their physical movement. When looking for the best cushion it needs to be measured correctly in width, depth, and height to insure the weight is properly distributed. Additionally, find out how much time they spend on a wheelchair and that will determine how much firmness and padding is needed. If incontinence is an issue, be sure to get a waterproof cover or something that is water resistant.
Wheelchair Cushions Types
Click on the wheelchair cushion images below to buy the product. Find the material that will best meet your needs.
Foam Wheelchair Cushions


The most common wheelchair cushions are made of these three materials, foam, gel and air. Foam cushions are the best shock absorbers for bumpy surfaces but makes for a hot seat. Some people find if there is not enough foam padding in the cushions, they can flatten pretty easily. You want at least 4 inches of foam for maximum comfort but might be too high for some users. If you travel in your wheelchair on sidewalks and public roads, a foam cushion will be best but probably not for a hot day.
Gel Wheelchair Cushions

Gel cushions can minimize heat well and absorbs minor vibration but not for bumpy or impact surfaces. They do not need to be too high to be effective as a cushion. They are also great for use as a gel cushion padding for car seats since they will not raise the height of the user to much. For indoor use and flat surfaces, gel cushions are probably your best wheelchair cushion. They feel nice and cool under your butt.
Buy Recommended Gel Cushions – Great for someone who has sciatica or sits in one position for extended periods of time. Perfect for long trips in the car and for wheelchair users.
Gel Wheelchair Cushions – Distributes the weight of the individual with it's dense gel material. Offered in many sizes.
Air Wheelchair Cushions


Air wheelchair cushions, seen above, conforms to the users' seat but must be maintained properly for the most efficient use. Too much or too little air can make the wheelchair cushion user feel uncomfortable and be a safety issue. Be sure to test the air handicap cushions when temperatures are cold because the cold air can cause the wheelchair cushion to reduce in size. Great for someone to eliminate painful pressure points when sitting. Air wheelchair cushions can also be considered adjustable wheelchair cushions, since you can reduce or increase the amount of air to suit your needs.
Benefits of Wheelchair Cushions
Enhancing stability and pelvic positioning, maintaining a healthy body temperature, and helping to reduce unwanted pressure are just some benefits of wheelchair cushions that play a huge role to its user. In addition to these benefits you also want to look for features such as, washable non slip cushion or cover, easily transferred and transported cushions, cushions that molds to body shapes, and that very durable. Using the correct wheelchair cushions can lessen or prevent poor postural stability, dangerous pressure sores, and minimal physical movement.
Medicare will reimburse for wheelchair cushions as long as it is deemed medically necessary. For most wheelchair users, if their wheelchair qualified for Medicare, their cushions will also qualify. If you do not have insurance, prices for cushions can range from $50 to $300 for the higher end materials and the ones fully customized for the wheelchair.
Tags: Air Handicap Cushions, Foam Handicap Cushions, Gel Handicap Cushions