A quiet, relaxing soak in the bathtub is something most people take for granted, but when you must have help in accessing your bath; it can be quite a blow to your psyche and to your ego. It is also very inconvenient when you have to plan your bath time around your family member's schedule for such a simple, but necessary issue. No one should be hindered in their ability to bathe by themselves.
There are many ADA (American Disabilities Act) compliant accessible handicap bathtubs styles available that can enable you to perform this simple act without having to depend on others. Everyone will benefit when you once again regain your independence. Your family will be confident that they can leave you to bathe on your own with ease. It can often be a stressful and a daunting task for everyone concerned when a loved one has limited mobility.
ADA states that an accessible bathtub should be larger than typical sized tub. For example, they should be six inches longer, deeper and wider than normal bathtubs. Your easily accessible tubs should have three sides that give both the bather and the caregiver easy access. Sometimes a door is better suited. This will assure greater maneuverability, immersion and comfort for both the handicapped person and the caregiver. This is especially vital in the case of an accident, as safety is very important. There are also handicap bathtub lifts that a user can control to slowly bring them down in the water and easily out of water.
Walk In Accessible Tubs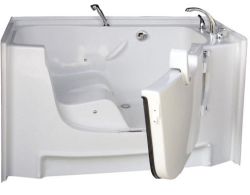 Walk in accessible tubs are great senior citizen tubs and provide hydrotherapy relief for those reoccurring aches and pains. An easy to open door seals the water inside giving you a full body water massage. Additional accessories that will add to the accessible bathtubs can be done by incorporating horizontal wall rails or grab bars. They are extremely helpful for your independence during bathing. They provide the stability and leverage that allows you to enter and exit the accessible bathtub, if you are able to support your weight by yourself. For someone who cannot completely immerse themselves into the water, comfortable seating can be installed, along with "non-slip" strips for additional safety. Add handicap bathing aids like a back scrubber and cleaner with an adjustable head for the ultimate experience.
Buying Accessible Walk In BathTubs
Buying ADA complaint accessible bathtubs will cost $3500 and up, in store or online. Insurances will likely not cover the costs of a walk in medical bathtub but many stores will offer funding options that make it affordable. These walk in bathtub prices online are comparable to in store prices. It is like having a jacuzzi installed in your home. There are alternatives to an accessible bathtub such as handicap bathtub lifts that cost considerably less. As with all things that is not covered by insurance and expensive, do the research on the product that will meet your specific needs.

Walk-in Bath Tub, Non-Leak Whirlpool System
This accessible bathtub has a 17 inch seat height and fills 45 gallons capacity. Made of heavy duty reinforced fiberglass and with dimensions of 26 x 53 to fit most tub spaces.
The incapacitated, the elderly, or anyone with special needs often find themselves dependent upon family members for help with even the simplest of daily activities, such as taking a bath. It can be a severely depressing thing for someone who is used to being dependent all of their lives; however, loss of pride can be even more of a handicap without an accessible bathtub.