There are many styles and variations available for vehicle lifts for handicaps. Lifts are usually hydraulic systems that lower and raise a platform that a wheelchair can be rolled on. An electric motor powers a pump that controls the hydraulics that moves the platform. Hydraulics can lift massive amounts of weight, so they are suitable even for large persons on a power wheelchair. There are also manual wheelchair carriers and cargo hitch mounted transports that attach to the back of a truck or SUV. Some come equipped with a fold out ramp that allows the user to roll up with their mobility vehicle.
How Vehicle Lifts Work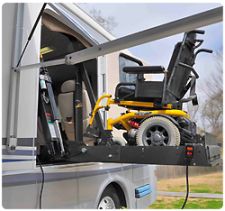 Lifts for handicap issues can be fitted to large vans or minivans as van lifts for private use. Controls can be accessed from the outside to allow the handicapped person to fully manipulate the lift. For a handicapped driver who is in a wheelchair, a lift will allow the person to get into and out of the vehicle without ever having to leave his wheelchair. Just roll the wheelchair onto the lift platform after it is lowered. Press a button to raise the platform and roll inside the vehicle.
Once inside the lift has another button to raise it to a storage position and doors can be closed with a lever or a fully automatic system. The driver can then roll up to the driving position behind the steering wheel where there is a locking mechanism to hold the wheelchair in place. Such vehicle are equipped with hand controls for throttle and braking which allows a person who may not have the use of his legs to operate a motor vehicle.
There are federal regulations that control specifics for wheelchair lifts for public use that are contained in the Americans with Disabilities Act Standards for Accessible Design that are not required for private lifts. Safety standards should be observed throughout the industry, but flexibility in customizing to the individual is okay for private consumer vehicle lifts for the handicapped.
Cargo Carrier Racks
Transport handicap scooters and power wheelchairs on the back of your minivan, truck or van with a cargo carrier rack. There are vehicle racks that can support 400lbs and be able to be folded up when not in use. Simply install them to the back of your vehicle.
Buy Cargo Carriers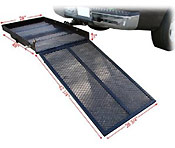 Costs can sometimes be offset by grants and funds available under different social programs on the federal, state and local level. Either seek the help of a competent social worker or seek a lift installation company that has in-house staff that can secure both free and loan based financing. Reputable manufacturers and installers rely on the word-of-mouth advertising of satisfied clients so one should not have to go far to find a suitable provider that can outfit an existing vehicle or make recommendations on a suitable package deal.