Transfer swivel cushions are swivel chairs for cars which assist people with certain physical disabilities such as impaired lower mobility or pain in their hips, knees and feet to get in and out of their seats more easily. These swivel devices can function without electricity and are manufactured in such a manner that is conducive to a more effective rehabilitation if the features of these seat cushions are employed. They are used to prevent and lessen further injury and to give some modicum of independence to those who might not otherwise have any at all. If there is a caregiver present, then they will appreciate the fact that such swivel seat cushions can save their back and leg muscles and reduce the possibility of injury.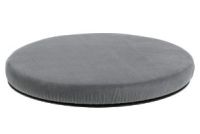 Who Else Can Use These Transfer Swivel Cushions?
They are helpful for the elderly and weaker individuals by giving extra mobility and making side to side movements much easier, while perched atop a padded chair. There is no twist and there is no strain. There is no added discomfort on otherwise challenged muscles and ligaments. These are great alternatives when seat lift cushions or transfer boards are unable to fit your needs.
Transfer Swivel Seat Cushions For Your Car
These are helpful and relatively inexpensive handicapped equipment for your car seats. This type of swivel cushion is used to ease the discomfort and possibly injurious act of getting into and out of an automobile. One simply sits down on the cushion and turns their body while a caregiver lifts the legs and feet into position, if necessary. There is no more twisting at the waist. If you are in need of some of the best car transfer swivel cushion to place on the car seat, this is the one to buy.
Buy Recommended Car Swivel Seat Cushions – This is the swivel cushions you see above. It is a simple adult car cushion that turns the user. If you need a swivel cushion that does not raise your driving seat height, consider the flat slick pads.
Slick Sliding Pad For Car Seats – This is a flat sliding pad for use in getting in and out of a car seat. The slick fabric surface makes entering and exiting a vehicle that much easier by reducing all the friction especially if your car seat is made of a plush fabric. Although slick, it is comfortable to sit on and works great for sliding transfers. Simply swing your legs into place with a swivel motion.
Handicap swivel seat cushions for cars can make life easier for everyone involved in the care of one who might require their use. Prices average from $20 to $50 dollars if shopping online. There are different weight limits, colors and composition materials that may raise the price of the product. These swivel car cushions can also be used at the dining table, living room chairs, in a truck and in any situation for which twisting and side to side movements would otherwise be difficult.