Filed under Handicap Equipment
If you have just had surgery on your back, you are probably experiencing difficulty with getting around, bending over, raising your arms and reaching for things in general. That is why post back surgery equipment was invented. Items such as handicap reachers and shower transfer benches are among the many post surgery aids that can assist you while you are recovering from serious medical procedures on your back.
Handicap Reachers
Handicap reachers are special devices which are designed to enable people to reach items that are far away without having to bend their backs or raise their arms too much. They are often made of aluminum and look a lot like devices used to retrieve trash, except that they have a two-pronged claw at the end of the device which can permit you to grab something with a fair amount of delicacy. You can pick up items as small as dropped coins and as large as a newspaper.
Shower Transfer Benches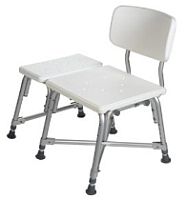 Shower transfer benches are another important device that grants you a certain amount of comfort after you have had back surgery. One thing people hate about surgical procedures is the limitations that they put on hygiene afterward. This may be due to having to avoid getting sutures or protective gauze moist. In the case of back surgery, it may just be the difficulty in showering due to the pain of moving around and working your arms. Using a bench like this in the shower allows the water to simply run down over your body and refresh you during your recovery.
The best news about these handicap devices is the price. Reachers are available from prices as low as ten dollars. Transfer benches for the shower and the tub are little more expensive, but also come with some great options. Simple benches can go for as little as 50 or 60 dollars. Padded and adjustable versions will cost a little more.
List of Recommended Post Back Surgery Equipment
In addition to the items suggested above, here is a longer list of recommended products and gifts for someone after back surgery.
Whether you are planning to have back surgery or already had the surgery, consider these items to assist in the rehabilitation process.
Tags: Handicap Reachers, Showering After Surgery, Transfer Bench
Filed under Handicap Equipment, Lifts
Independence is vital to the quality of life for every person. For the disabled person, equipment that allows them to transfer themselves from one place to another greatly increases their independence. Transferring equipment for the disabled is also vital for the health and well being of the disabled persons care giver.
Within the home, there are many pieces of equipment that aid in the successful executions of daily living. Transferring from bed to wheelchair and back again, can be done with a transfer board or Hoyer lifts. Many insurance companies will help pay for part or all of the cost of durable medical goods.
Transfer Boards
Transfer boards are placed in between two objects like a bed and a wheelchair. For the disabled person with plenty of upper body strength transfer boards are a great option to aid in their mobility. The disabled person simply uses the board to put their body weight on while they slide across from bed to wheelchair.
Hoyer Lifts
Hoyer lifts is the brand name for a lift that uses a sling and hydraulic power to lift a person's body up off a resting place, move them and then lower them back to a new resting place. Handicap body lifts such as these do not require the person being lifted to use any body strength to maintain balance or help in the lifting process.
Bathtub Benches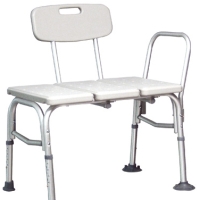 For the disabled, bathtub benches make showering much easier because the weight of their body is not lowered down into the tub. They can sit during the showering process, and then transfer out of the shower using a transfer board.
Transferring a wheelchair user or a disabled person gives them exercise they would not get otherwise. Persons left in a bed without getting up loose muscle mass and bone strength. Transferring helps the disabled person gain independence, keeping their bodies as strong as possible for as long as possible. Transferring out of bed allows a disabled person to remain a part of society.
Tags: Patient Lifts, Transfer Bench