Filed under Handicap Bathroom, Lifts
For the individual with mobility difficulties, a commode lift may be of great assistance.
Designed as an aid for individuals suffering from motor difficulty or disability, commode lifts are an invaluable tool in preserving independence as well as personal dignity. With a wide product variety of  toilet seat lifts, in both motorized and non-motorized models, this allows for a toilet lifting seat to fit every budget.
Benefits To Commode Lifts
Within the home environment, a commode lift offers independence to the individual who is unable to get onto and off of the toilet unassisted. Commode lifts reduce falls, thus allowing for increased safety within the home environment. If an individual is incapacitated as a result of an illness or an injury, the use of a commode lift may assist in a faster and fuller recovery.
Additionally, commode lifts often allow individuals to remain in their own homes longer than would have otherwise been possible. Commode lifts offer dignity, independence, and safety to disabled individuals.
Toilet Seat Lifts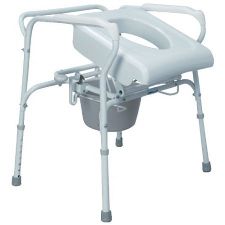 Toilet seat lifts and commode lifts are useful for individuals who have suffered a traumatic event such as a stroke or a hip fracture. Both of these health issues require an extensive rehabilitation and recovery period. With a toilet seat lift, one can get off a toilet without straining or re-injuring previous ailments. The last thing you want after using a toilet is to force your body back up to standing position.
The installation process for commode lifts can be quite simple. There are some configured to fit perfectly over your standard height toilet. The commode lift can raise your standard height toilet an additional 2-4 inches and instantly create a raised toilet seat.
Buy Recommended Commode Lifts
These lifts vary widely in price, ranging from under $100 for basic non-motorized toilet seat lifts to upwards of $500 for motorized toilet lifting seat options.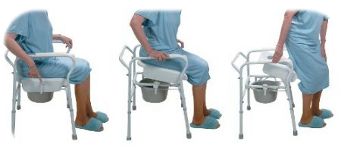 Maintenance on commode lifts varies, as motorized commode lifts have some ongoing maintenance requirements that non-motorized commodes do not have. Replacement parts for motorized commode lifts are widely available to caregivers.
Individuals with motor difficulties are wise to consider a help get off toilet product such as a commode lift. It could mean staying in their own home instead of residing in a rehabilitation facility or nursing home.
Tags: Bathroom Toilet Seats, Toilet Commodes
Filed under Handicap Bathroom, Lifts
For the elderly or disabled, it can be difficult to stand up from a toilet seat, even with the typical handicap seats meeting ADA requirements. Increasing independence is an important part of increasing the quality of life and using the proper seat lift will help with both. Rather than rushing to invite yet another caregiver into the home of your loved one, explore the other options available to make using the restroom both safer and more comfortable. Even if there is a caregiver present in the home already, having the right toilet seat lift will make their job easier and safer. Consider the benefits carefully before choosing the best toilet seat accessory on the market.
Benefits of Toilet Seat Lifts
The basic benefits of toilet seat lifts are allowing you to not have to sit down too low or strain to stand up. Your choice of a powered model or standard lift will depend on the level of help needed to ensure bathroom safety. Both models may be purchased with the variety of features considered here, so it is important to check the specifications for a model before making the purchase.
Safety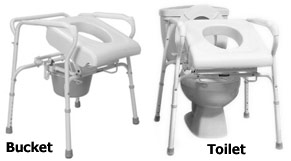 All seat lifts come with weight limits, though most are graded for between 250-500 pounds. Powered seat lifts remove all the effort from standing because the machine does all the work. If you strain a lot or unable to get up with just your legs, the power toilet seat lift might be the right choice. For those able to stand with assistance, an unpowered seat lift may be a better and cheaper option. Models may come with grab bars to help in maneuvering to and from the walker or wheel chair.
Portability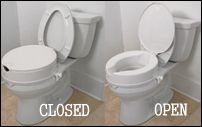 Both powered lifts and the standard toilet seat risers may be found in portable and even stand-alone units. Raised seats offer a distinct benefit when it comes to visiting friends and family. Though versatile, these units may not offer the sturdiness of an installed lift. However, installation is typically easy and will not require any special tools, but this is only a general rule. It is important to check the specifications and read customer reviews before choosing. Raised toilet seats like the ones seen on the left add 3 to 4 inches to the height of the toilet.
Independence
Privacy is a key component of human dignity and quality of life with studies showing that an increased quality of life can add years of enjoyment. The primary concern in purchasing a seat lift should be finding a model that maximizes independence for the person. Being able to stand up from a toilet seat is made easier with the right choice of equipment.
Tags: Toilet Commodes