Filed under Handicap Equipment
Care of the legs and feet is essential for patients dealing with certain medical conditions. Patients who use compression footwear often suffer from health conditions which limit their ability to dress and undress themselves.
The bending and dexterity required to remove and wear socks presents a unique challenge for patients who have arthritis, limited mobility, and diminished hand strength, as well as for those recovering from hip, knee, or back surgery. For these patients, there are many types of sock aids on the market which are helpful for removing and wearing socks. They make getting dressed, simpler and easier.
Wearing Compression Socks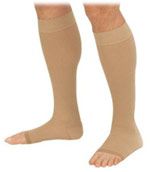 One product frequently prescribed by physicians is compression socks or compression stockings. These socks, made from strong elastic, work by applying a squeezing action to the legs to prevent blood from pooling in the veins. They are useful in relieving the pain and swelling of varicose veins, to help heal sores on the skin and prevent them from returning, and in the treatment of blood clots in the legs. They are also helpful for those with compromised circulation, such as diabetics, and for patients whose work demands that they sit or stand in one place for long periods. Compression socks and stockings are priced anywhere from $25.00 to $110.00. The downside to these compression socks and stockings is that they require a lot of physical exertion and dexterity in order to wear one.
Sock Aids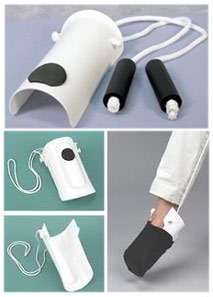 Someone who requires help putting on socks will find that sock aids are a necessary part of the dressing up routine. Sock aids are generally soft-sided. The terrycloth-covered main portion of the device fits into the sock. The textured surface holds the sock in place. The opposing surface is satin, which allows the foot to slide smoothly into the sock. The two long loop handles allow the patient to pull the sock onto the foot with minimal effort. These useful devices typically cost from $12.00 to $18.00 and are available without a prescription. The patient's doctor or physical therapist may also recommend a stocking donner to limit stress on the joints and to increase the patient's independence in getting dressed.
Stocking Donners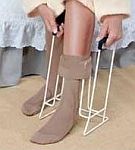 A stocking donner typically consists of a sturdy metal frame which is covered with a baked epoxy finish to prevent socks and stockings from snagging. The sock is positioned in the frame and then pulled onto the foot by using the foam grip handles. This device is particularly useful for patients with weakened hand strength or coordination. They are great for opening up compression stockings so one can easily slide their foot in. Prices for stocking donners run from $25.00 to $50.00 and they can be purchased without a prescription. After putting on your socks or stockings, be sure to use a device to help tie your shoelaces.
For additional help maneuvering and reaching the socks and stockings, consider using a dressing stick, handicap reachers or a long-handled shoehorn. They make sock removal and pulling up of socks much easier with the use of hooks, pinchers and grabbers. Prices for these items range from $10.00 to $20.00. Check out our long list of recommended dressing equipment.
Tags: Sock Aids
Filed under Disability, Handicap Bedroom
One of the most depressing aspects of aging is loss of independence due to the body's inability to flex and function as it once did. It becomes especially frustrating when one is unable to dress themselves.
Fortunately, there are many dressing aids available for the elderly, disabled and wheelchair users that can extend dressing independence for many years. Age is not the only disabling condition we may face either. After a surgery, this can greatly impact the ability to outfit ourselves with clothing, socks and shoes, especially after hip or knee surgery.
Dressing Aid Sticks
The most versatile type of assistance is found in the dressing aid sticks, which usually have two hooks, one in an S shape and a regular hook on the other end. The S shape hook end is very handy for removing clothing from closets or drawers, retrieving clothes from floors or reaching shoes that may be under furniture or beds. Both hook ends can also assist in putting on socks and shoes, as well as removing them. This dressing aid stick is very inexpensive, usually around $10 and can be an extra hand or long arm to assist in manipulating clothing while dressing. For someone who recently had hip replacement surgery, these dressing aids are a necessity. Here is a list of other dressing aids.
Button hooks and zipper pulls are also very inexpensive and are of great help when stiffness or poor mobility of arms is a factor.
Another essential aid, not only for dressing, but for many other uses is called a handicap reacher. This is a long handled, spring action grabber that is easily activated with a hand squeeze trigger. Handicap reachers can be used to help put on shoes, especially with the aid of a shoehorn. It also makes it much easier to retrieve clothing or other dressing articles that are too high or low to reach normally.
Shoe horns are cheap and affordable shoe removal devices. Simply slip the flatter end into the heel area of your shoes and use some leverage to pop the feet out.
Buying Recommended Dressing Aids
Sock Aids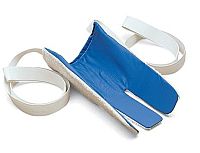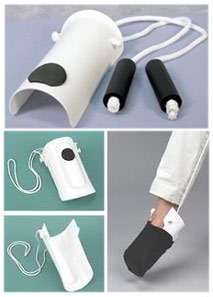 There are also inexpensive sock aids that make it effortless to put on socks unassisted, even when bending or mobility is restricted. These sock helper aids will provide the disabled much needed assistance when putting on socks. They help the elderly pull up socks without straining over. Those who have trouble reaching down to their feet can also use these devices. A sock aid consists of a hard plastic piece in the shape of a half circle and two strings to slide the piece off. No longer do you need any large socks, any standard sized socks will work. Another aid is a handicap reacher that can be used to adjust the edges of the socks once the feet are in place. Here are the simple steps for putting on your socks.
Put your sock over the handicap sock aid so that it expands the opening of the sock.
Then place your foot into that sock hole as much as possible.
Make sure your heel is well covered and then pull slowly on the device.
The rest of the sock should fall into place.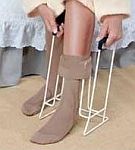 If you are wondering is there a tool that helps pull up long compression socks for the elderly, then consider using a stocking donner. Putting on compression socks can be a long difficult process especially for those who are unable to get a firm grip on the socks. There are also grabbers (handicap reachers) and sock aid sticks that can be used to pull socks up if you are unable to reach or bend at the hip.
Clip and Pull
There is a lesser known pants clip dressing aid for the disabled, called the Clip and Pull, which attaches to pants, undergarments or skirts while seated and then easily pulled into place, even using just one hand and are available for around $25. This is the tool to help pull pants up. Use this device to help pull up pants, skirts, shorts, boxers, underwear, jeans and whatever else you have trouble reaching down and pulling up.

With all the excellent, durable and inexpensive aids now on the market, dressing independently is possible for most any disabled person. This helps to maintain dignity, which is an important factor in a happy lifestyle. Check out the handicap bathing aids and the handicap cooking and eating aids available to assist you independently throughout the home.
Tags: Dressing Aid Sticks, Sock Aids