Filed under Handicap Equipment
If you have just had surgery on your back, you are probably experiencing difficulty with getting around, bending over, raising your arms and reaching for things in general. That is why post back surgery equipment was invented. Items such as handicap reachers and shower transfer benches are among the many post surgery aids that can assist you while you are recovering from serious medical procedures on your back.
Handicap Reachers
Handicap reachers are special devices which are designed to enable people to reach items that are far away without having to bend their backs or raise their arms too much. They are often made of aluminum and look a lot like devices used to retrieve trash, except that they have a two-pronged claw at the end of the device which can permit you to grab something with a fair amount of delicacy. You can pick up items as small as dropped coins and as large as a newspaper.
Shower Transfer Benches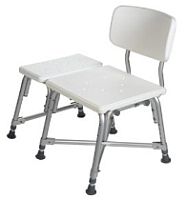 Shower transfer benches are another important device that grants you a certain amount of comfort after you have had back surgery. One thing people hate about surgical procedures is the limitations that they put on hygiene afterward. This may be due to having to avoid getting sutures or protective gauze moist. In the case of back surgery, it may just be the difficulty in showering due to the pain of moving around and working your arms. Using a bench like this in the shower allows the water to simply run down over your body and refresh you during your recovery.
The best news about these handicap devices is the price. Reachers are available from prices as low as ten dollars. Transfer benches for the shower and the tub are little more expensive, but also come with some great options. Simple benches can go for as little as 50 or 60 dollars. Padded and adjustable versions will cost a little more.
List of Recommended Post Back Surgery Equipment
In addition to the items suggested above, here is a longer list of recommended products and gifts for someone after back surgery.
Whether you are planning to have back surgery or already had the surgery, consider these items to assist in the rehabilitation process.
Tags: Handicap Reachers, Showering After Surgery, Transfer Bench
Filed under Handicap Bathroom, Handicap Equipment
When someone suffers a broken bone or has surgery, consideration soon turns to the new complexity of daily life.
Coping with a cast or a wound is inconvenient and awkward. One of the most difficult things to accomplish is keeping the cast or wound dry while taking a shower or bath. Luckily, there are cast and wound protectors that can keep the water out if your cast is not waterproof.
Showering After Surgery
Showering after surgery is important for physical comfort and the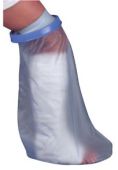 emotional pick-me-up that a hot shower provides. Until recently, the only choices were to hang the cast over the tub (or outside the shower curtain), or to make a tape and plastic bag wrap cover. These methods do not work well, and when a cast gets too wet, it must be remade. Stitched wounds are difficult to keep dry using layers of bandages or with plastic and tape. In addition, the body is contorted and it is simply not safe for you. Bandage protectors, skin protectors, and waterproof leg cast protectors show you how to shower with a cast on your leg or arm and allow patients to shower by themselves, giving them a greater sense of privacy. These post surgery aids can also help speed up recovery time. For those living alone, it is essential to be able to cover the wound or cast without help. This is possible with easy to use bandage protective covers.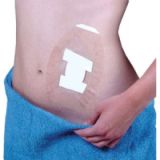 Exposure to bad weather is another important consideration, especially for hand and foot casts. It is common to wear a sock over a foot cast, but most people do not cover a hand cast, and therefore hand casts are especially difficult to keep dry. Even when covered with a glove or sock, heavy rain or snow will cause a hand or foot cast to become wet. Waterproof cast protection is essential during inclement weather.
Waterproof Cast Protectors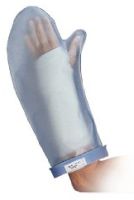 Waterproof cast protectors, arm bandage protectors, and skin protectors are now available making life with a cast or stitches much easier. Made of synthetic material, these waterproof protectors cover the cast or wound, keeping water out so that showering and bathing is possible. The protectors are reusable, made in adult and pediatric sizes, and usually cost less than $50. The only maintenance required is to dry the cover off after use. For swimmers, protectors allowing complete submersion in water are available.
When you keep your cast dry and free from moisture, you can reduce your chances of getting a rash, infection or possible fungal growth.
Water is no longer the enemy for those with a cast or wound, thanks to the surgery protective waterproof covers now available.