Filed under Handicap Bathroom
Sometimes the physically able-bodied forget what life must be like for a disabled individual. Even a simple task like taking a shower can be so frustrating. They would have trouble reaching anything in a normal shower.
During showering time, they get tired and there is no place to sit. Their options are to sit on the wet cold floor, shower bench or plastic shower chairs. The bench and chair are both good options but this means standing up to reach for the shower heads and shower handles to adjust the water. They will most likely need assistance, which limits their independence and privacy. By installing an accessible shower, these seemingly simple tasks will be so much easier for your loved one.
Universally Designed Showers for Everyone
Did you know that accessible showers are universally designed? This means anyone can benefit from their functions and not feel hindered. However, it is important to know the needs of individual and what kind of accessible shower will work for them.
Consider the particular needs of the disabled individual that the shower is designed for.
Are they completely wheelchair dependent, thus requiring a roll-in shower?
Or, are they able to transfer from a wheelchair to a seat, therefore allowing them to use a transfer shower?
Or are they sick of the shower curbs that create a dangerous situation when trying to climb over it?
Do they need a place to put their shampoos, brushes and soaps like on shower stands?
These are universally designed showers that are not just for the physically handicapped but for anyone with a desire to increase the safety, comfort and the look of their shower. A low shower threshold can be a welcome addition to any shower stall.
If you are adapting an existing bathroom, you will need to be conscious of the space that you have available as this will also affect your choice of shower. It may not be practical to install a shower enclosure that a wheelchair can fit into, but takes up so much space that the wheelchair cannot maneuver in the bathroom. So you plan ahead for the wheelchair spacing in the bathroom.
ADA Accessible Showers Guidelines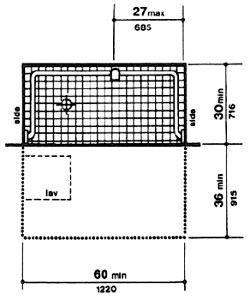 While handicap accessible showers within a private home are not required to meet ADA standards, it is good to be aware of these since they are designed to offer a high level of maneuverability and safety to the user. Grab bars should be 1-1/4" to 1-1/2" in diameter and be mounted 33" to 36" above the floor. Seats should be mounted 17" to 19" above the floor and should be the full depth of the enclosure. Both seats and shower grab bars should be able to take the force of 250 lbs. Controls should be easily accessible from a sitting position and should to be easy to use with one hand. The shower head should be able to double as a fixed and hand-held unit. It's also important that the flooring be slip-resistant. You can check ADA federal requirements website for more specific measurements. Many pre-manufactured accessible showers are already designed to meet these requirements.
We have heard the case for handicapped accessible showers for the disabled but did you know they can actually make your bathroom appear larger? The main selling point was wheelchair accessibility but they can also be perfect for bathroom remodeling. Imagine how much bathroom space will open up without a shower curb obstructing the view.
So whether you have moved into a new home, someone in the family has been injured, or maybe you yourself need a little more assistance than you did in the past, the shower can still be a comforting and private place for each member of the family to relax and enjoy.
Tags: Accessible Equipment, Shower handicapped, Universal Design Showers
Filed under Handicap Bathroom
This article will get you better informed about the process involved in having or building a handicap shower. Alternative solutions will also be offered just in case the cost of these showers will be an issue.
Medicare and most private insurances do not cover the costs of these equipment because they are considered personal convenience items so total financial burden will be placed on you. For starters, let us start to understand what a having a handicap shower entails.
Handicap showers need to be accessible, they need to be safe, provide the necessary support for the individual, and sometimes they need to be aesthetically pleasing. In order to build or buy a handicap accessible shower, you first need to make it easily accessible to people with limited mobility or in wheelchairs. Remove the shower curb so you can get in close to the shower with a wheelchair. This is also handy for any caregivers to provide cleaning care without reaching over.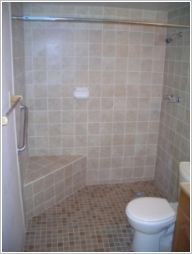 Most handicap showers take about 2 days to install if the shower is prefabricated and fits the old shower space. You can remove your old bathtub and fit the handicap shower to the old water pipes. It is important to note that the handicap showers are usually a inch or so above the ground, so you need a shower ramp if you want to go directly inside the shower with a wheelchair. However, there are shower floor plans that completely even to the floor and are slightly angled down so water flows toward the shower drain. These shower designs tend to require more labor, cost and time because the area must be tiled and waterproofed, but they look the best.
Please note that not everyone requires the installation of a curb free, walk in, handicap shower. A few simple handicap shower accessories can make the showering environment more accessible, safety and user friendly. It can also save you tremendous amounts of money.
Handicap Shower Accessories
Handicap showers offer many features that it is easy to get overwhelmed by all the choices. Here is a basis roundup of all the features you can add on to your shower and improve your showering experience. Some shower accessories you might consider are a handicap grab bar, long shower heads for the elderly and shower bench. Handicapped grab bars are very useful for transferring from wheelchair to shower bench. Every handicap shower should have grab bars. They provide more support for the individual during transfers and while exiting and entering the shower stalls. Install more than one for the most efficient use. If you do not want to damage the walls of the shower, get suction grab bars capable of supporting your weight. They are easily installed and removed with the flip of a lever.
The shower bench is water resistant and provides those who cannot stand for long periods a place to seat and clean themselves. The shower benches are optional if you have a wheelchair shower aka commode that you plan to sit on during the shower. Instead of a bench, you can choose a fold up shower seat that can support 250lbs to 900lbs. The handicap shower heads have a long extended hose so you don't have to stretch, pull or strain during a shower.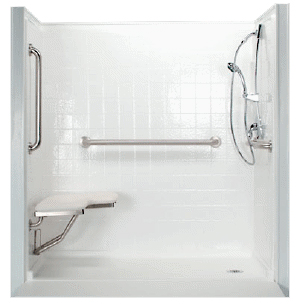 Handicap showers usually come with slip resistant bases that you can install easily by snapping on to the floor. Handicap showers can fit in tight areas or custom fitted to blend into the odd shaped bathrooms. The sizes can range from 4 feet for small handicap accessible bathrooms and 6 feet in width for the larger bathrooms. Measure the space properly for the shower stall enclosure. With narrow handicap showers, anyone can install one in their small and cramped bathroom. A total package of a handicapped shower can range in prices from $700 to $1400 depending on how much installation work is needed.
Tags: Shower handicapped