Filed under Handicap Bathroom, Wheelchair
A reclining shower wheelchair is used by caregivers to give a shower to an elderly or disabled person. These chairs are most often used in hospitals, nursing centers, and in retirement homes but can be a great addition to a household with walk in showers. They can be utilized to bathe a person who is confined to a wheelchair and who is not able to move their arms and legs such as a paraplegic or quadriplegic.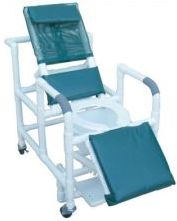 The shower chair permits a nurse or caregiver to shower a patient without having to use regular shower chairs or bathtub lifts.
The reclining shower chair and other equipments has provided home caregivers assistance in bathing patients who cannot bath themselves and also provided comfort for those who, up until now, were not able to benefit from receiving a bath.
The chairs come in a variety of models. It might have drop arms or an elongated padded seat, various reclining positions and footrests with adjustable heights.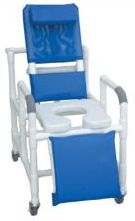 Some times the chairs can be used as shower commodes if it comes with a padded seat and can be used over a toilet in addition to being used in a shower. Since the chairs have small wheels, they can be moved from rooms and between showers. If the chair is made of aluminum and is relatively light, the chair can be lifted or adjusted without difficulty.
Recommended Reclining Shower Wheelchairs
The costs of reclining shower wheel chairs varied in price online from just over $300 through $1000 to over $1500, depending on the complexity of the chair and added options.
Maintaining Reclining Shower Wheelchairs
To maintain the reclining shower wheel chair, clean it every month. Do so by putting the chair inside the shower stall to clean it. Clean with a tile cleaner as that stops mildew and mold more effectively. Alternatively, use a mixture of water and ammonia. A scrub brush is effective to reach small spaces but do not scour strongly to keep from scratching the surface.
Clean the shower chair each time it is used by wiping it dry. Dry any gaps as well as the bottom of the seat to prevent mildew and mold from developing. Optimally, the chair should be totally cleaned and dried before it is used again.
Do not keep the chair in the shower as the fungus and bacteria develop where there is increased moisture. If the chair has to be kept in the shower stall, be certain that the whole shower and chair is dried each time the stall is used. Clean the shower frequently and you will have a reclining shower chair that will last a lifetime.
Tags: Bariatric Reclining Shower Chairs, Shower Commodes
Filed under Handicap Bathroom
Commodes are useful for people who are unable to walk long distances to use the restroom. A commode is a portable toilet that can be placed next to a person's bed.
They are significantly higher than an average toilet, making them easier to get off and on. Commodes are perfect for somebody that is put on bed rest or may have trouble standing for long periods of time. A commode placed near a bed in a room allows a person to use their bathroom in private.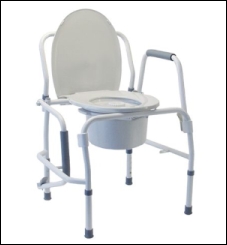 At first glance, a commode looks like a chair with handles and a toilet bowl but there are many differences. The handles on both sides allow for extra stability when standing up or sitting down similar to some elevated plastic toilet seats. These arm handles can be lowered when not in use or locked into place when necessary. The chair back provides more support than a regular toilet. Most commodes have lids as well. The container is removable for easier cleaning and disposing. Some commodes have wheels, making it convenient to move when not in use. The wheels should be locked when near a bed for use. Some commodes may have seat belts. These are great for people who are very weak, and may slide off the chair.
Tip: Before using your commode, it is helpful to add just a small amount of water to the container. The liquid in the container will help to make it easier to clean.
Handicap Commodes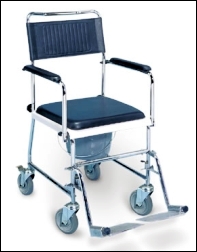 Handicap commodes are a form of medical equipment that acts like a porta potty with security rails or like a potty wheelchair. They are perfect for someone who recently had surgery and needs the bathroom to be as close as possible. There are several different types of commodes available.
Bedside Commodes
There are the stand alone commodes that can be put near the bedside called bedside commodes. They shorten the bathroom trip during the night or in the morning. With a commode bucket and lid to cover the waste, they can be placed nearby the bed and emptied later. Bedside commodes can also reduce the accidents that occur when dealing with incontinence.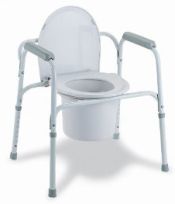 There are also commodes that fit over a standard toilet, but the seat is much higher, and commodes that are multi functional and can be used in the shower. Shower commodes are very useful for caregivers who need to help wash their patients. It provides an easy roll in and out access while allowing the patients to remain comfortably seated. There are also shower wheelchairs built like a wheelchair with a potty area that can be exposed to harsh water environments.
Commodes can come in a regular size or wide for larger people. There are tall bedside commodes that can be adjusted from 16 inches to 22 inches high.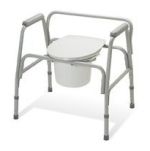 Commode chairs are pre-assembled, and should not require any tools. There may be some unfolding but should be relatively simple. You will need to install the plastic catch container. This should easily be able to slide off and on, or dropped in. There are some commodes that fold up for ease in storage. With all these choices and models, a commode is probably one of the best and cost effective handicapped equipment out there.
Buy Recommended Commodes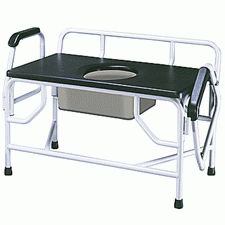 Does Medicare Cover Commodes?
Commodes are covered by Medicare if deemed medically necessary. Some other insurance programs may cover the cost as well, if they are referred by a doctor. To purchase a commode they are relatively low cost. Some commodes start around $40.00. Depending on the size, brand, and features commodes can cost up to $400.00 or more. You may also be able to rent a commode from a medical equipment company.