Filed under Lifts
Those who suffer from limited mobility or are wheelchair bound may want to consider the purchase of a handicapped chair. Handicapped chairs are used by those who may require assistance bending and moving in order to lower and raise their bodies into a seated position.
Individuals who are hampered by severe or chronic knee pain, back pain or mobility issues of the legs and upper body would benefit from using this type of assistance. Offering the user a gentle lift motion by way of remote capability, handicapped chairs provide assistance in gaining access to a desired position for either sitting or standing with little physical effort.
With the chair seat raised to its highest position, the user is then able to move securely in a backward motion resting their lower body against the raised seat where it then is able to gently lower them into a seated position. This assisted motion relieves pressure on the knees, lower back, hips and arms which normally support these bodily actions during self movement.
Chair Lifts For Seniors
As the senior is seated, the handicapped chair lifts for seniors provides a comfortable gliding motion while lifting the body into a standing position. Both uses, standing to seated and seated to standing, provide the seniors with less physical stress and impact on the joints and muscles which may be adversely affected by the normal tension used when situating the body into these positions during self movement.
Buy Recommended Chair Lifts
Offered in a range of sizes and fabrics to suit any physical need or style, handicapped chairs easily provide both comfort and soothing reliability. Most handicap chairs will come padded with a cotton cushion cover. Higher end lift chair models can be leather or suede covered. This allows them to blend into any room environment.
Lift Chair Weight Capacities
Handicapped chairs are well suited for any need and space. Average handicap chairs will be able to support up to 350 pounds. For those who require more power, there are bariatric lift chairs suitable for weights ranging from the 500 and 700 pound capacity. These are oversized models for the larger individual.
Most lift chairs offer a variety of positions making the choice of comfort levels and positions, a convenient personal option. While some handicapped chairs only perform the seated to standing and standing to seated positions, others are available with both a semi and fully reclining capability.
Who can use these handicapped chairs?
Have you noticed an older friend, relative or neighbor moaning and expressing grief when they sit down or stand up from a chair? Or maybe someone who has undergone knee or hip surgery recently. These chair lifts make excellent gifts for people after an operation. Many people prolong the recovery and rehabilitation period because they bend their hips and knees when they try to sit and stand from chairs. They are told not to put any stress on them but without lifting devices, they have no option. But now with handicap chairs, they can get the chair to raise them from sitting to standing position without compromising their own health.
Handicapped chairs provide the users with the means for solitary and unassisted physical movement, greatly increasing their sense of independence and personal choice. With variable options as to size, weight capacity, fabric types, colors or patterns, a handicapped chair is an optimal choice for those who seek both comfort and style in an independent means of physical assistance.
Tags: Chair, Chair Lifts For Seniors, seat risers
Filed under Handicap Bathroom, Handicap Equipment
For many elderly, disabled or post-surgery people, using the toilet is a very personal session and anything that allows for independent use will help in returning and increasing their dignity and self-confidence. There are many options for improving one's toilet experience. The raised toilet can be a hassle free installation for any handicap toilet. A raised toilet can make the wheelchair toilet transfer an easier transition. Raised toilets can also help those who have trouble getting back up from the toilet. It requires no additional cleanup and can return you to normalcy.
Recommended Toilet Seats After Surgery
Having the ability to sit down and stand up after surgery without impeding the rehabilitation process is crucial for a good recovery. One of the simplest ways to reduce the strain on your knees or after hip replacement surgery is to use elevated seats on a toilet. Make sure that when you are sitting down, you do not bend more than 90 degrees at your hip. The raised toilet seats and rail supports help you with that effort. There is no correct height for toilet seats for people after hip surgery but the recommended hip surgery toilet heights are 17 to 19 inches. Here are some recommended raised toilet seat products.

Lightweight Raised Toilet Seat with Brackets – Lightweight with adjustable brackets that helps secure to toilet so it does not move around. Holds up to 280lbs and raises the toilet seat an additional 3.75 inches. Very simple to install and detach.
Elevated Toilet Seats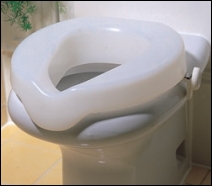 You can choose to install elevated toilet risers on the bottom portion of a toilet or attach it to the top section. The bottom installation is more difficult and requires more work hours but is well concealed and is aesthetically pleasing. The top installation is simple and requires nothing more than placing the toilet riser on top and a few snaps and locks. To uninstall and use as a portable handicapped toilet seats, you just need to reverse the process. These portable toilet seats can fit on most standard toilets found in homes and hotels.
Stylish Raised Toilet Seats
Attaching the plastic toilet seat riser might be unsightly for some people's preference but there are newer stylish and contemporary models that blend well with the porcelain. Either one will help in keeping a leveled position for a wheelchair. Here are two stylish toilet seats.
Post surgery, it is difficult or not recommended by a doctor to bend at the knees and hips. This is where a raised toilet seat after surgery can help in the healing process. Raised toilets, conceptually, work in a similar way to handicapped chair lifts. Handicapped toilets are raised so people can get on and off the low toilet seats without a lot of effort. There is less strain on the

hips and knees due to the wider angles and involves less squatting. Toilet seat risers also help to level the wheelchair height with the toilet height to make it easier for a wheelchair to toilet transfer.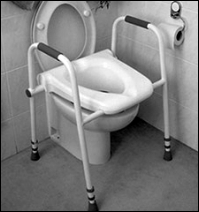 The elevated plastic toilet seats usually have maximum user weight limits up to 250lbs. However, there are raised toilets seats made of strong polyethylene and can support weights higher than 250lbs. Handicapped toilet risers also have non slip surfaces and rubber discs that grip on to the toilet seat. There are risers that come attached with built in arms on the sides for additional help when you sit or stand from a toilet.
Handicap and elevated toilet seats have optional lids that can cover the toilet bowl after use. However, there are some toilet seats that can block the original lids from closing. Make sure the new raised toilet seats have a lid built on if you want this option. This is not a problem with toilet risers installed at the bottom portion of a toilet.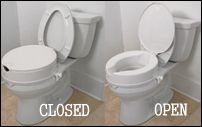 Toilet seat risers are quite affordable and will fit most regular or oval shaped toilets. Installation consists of lifting the existing toilet lid and seat, then inserting the elevated toilet riser on the top of the toilet bowl. The process is simple and does not require heavy lifting since the risers are lightweight. If you want an alternative to raised toilets, a portable handicap commode is a suitable solution, especially for people with limited mobility.
If you need portable raised toilets during your travels, commodes are the best portable handicap toilets for your needs. Simply get one that is foldable and easy to store away in your vehicle such as this folding commode. If it is not high enough, place a seat riser on top.
Raised Toilet Riser Tip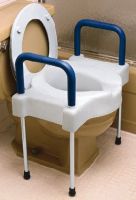 If you intend on purchasing a bathroom toilet riser, with arms or grips on the sides, make sure to put equal pressure on the grips as you get on or off. What could happen is, the riser may become detached from the bowl from one side and cause the entire piece to come off. Be careful and you will avoid a falling injury.
I recommend buying some toilet safety rails in addition to the toilet risers. The safety rails provide much more stability without worry of toppling over while you get off the elevated toilet seats.
Check out the raised toilet seat section at our store for more handicapped equipment options. You can find and buy raised toilet seats, grab bars and safety rails at competitive prices.