Filed under Disability
If you have a disability or injury, and your mobility is limited, then forearm crutches may just be a very helpful piece of equipment to own and use.
A forearm crutch for one or both of your arms can be used to support your legs and lower body weight if your legs or feet are too weak or have too much pain to fully plant your weight down.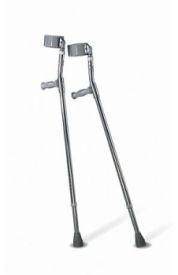 In a home environment, where doorways can often be quite narrow, mobility wheelchairs can pose a problem with physical maneuvering. Traditional underarm crutches that go under your shoulders, or using a handicap walker, often do not feel right for some disabled or injured individuals. That is when these special forearm crutches can be used most effectively.
Benefits of Forearm Crutches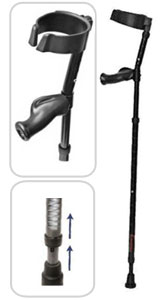 One of the benefits is that you will able to be more mobile than if you used nothing at all. You also will not develop any discomfort under your arms like you would with traditional, padded underarm crutches. The forearm variety wraps around your lower arms. They are not only be used for excellent support, but they can help many individuals with balance issues as well.
These forearm crutches can come made of aluminum or other metals. They are very sturdy and quite safe once you get used to using them. It is easy to navigate between rooms, even smaller rooms like bathrooms or closets and pantries. You can quickly learn to guide yourself with substantial control as you ambulate through your house. The best way to walk on them is to try to plant them down on the ground first before taking each step with your foot. A quality pair set of crutches can cost under $70 in most health equipment stores or pharmacies.
Buy Best Recommended Forearm Crutches
If you have sprained or strained your ankle, forearm crutches would be very useful. Also, if you pulled your Achilles tendon, you would find using them to be quite strong to help you sustain your mobility. These crutches don't require much maintenance at all, just a regular cleaning and a drying to remove any sweat that might have dripped down. By using them you will strengthen your arms and upper body as well.
Tags: Forearm Walking Crutch, Medical Crutches
Filed under Disability
Commodes, canes, crutches, handicap walkers, wheelchairs, beds, are covered under Medicare Part B. However anything that is permanently installed in your home is typically not covered under Medicare. These things include railings, grab bars, shower stalls, shower seats or ramps. In order for durable medical equipment to qualify, it must be medically necessary, used in the home and is generally not useful in the absence of injury or disease.
Equipment for Stroke Victims
Medicare can be pretty limited for someone who recently experienced a stroke and now requires handrails and grab bars installed around the home. Luckily for people who recently had a stroke or surgery, a handicap walker is covered under Medicare and most insurances. Balance is one of the important things to focus on after a stroke. Practice standing on one leg while being assisted by someone, a wall or a walker. Make sure there are handrails or grab bars in your house as stroke victims tend to have a decreased sense of balance. Squats and moderate speed walking are both good leg exercises but should only be undertaken by someone who is capable. For stability and support during exercises, I would recommend a handicap walker. Contact your physician for more information regarding physical therapy.
Does Insurance Cover Crutches?
Medicare Part B covers the costs of crutches as long as it is prescribed by a doctor and is sold by participating Medicare dealers and suppliers. You cover the initial 20% costs of the crutches and Medicare covers the rest. This applies to canes as well.
Does Insurance or Medicare Cover Toilet Seats?
Unfortunately, most toilet seats modifications are considered personal convenience items and are not covered by Medicare. Medical equipment such as bed pans or commodes is covered by the insurance since it is medically necessary. These items are crucial to improving a person's health and daily hygiene so they should be covered. Even if Medicare does not pay for the costs, your personal private insurance might have different guidelines as long as they are deemed medically necessary but you need to provide proof from a physician.
Document Medical Need for Equipment
Ask your primary care provider or licensed physician to document your medical need for such products. Get them to write out a prescription for the handicapped equipment and find out if they can refer you to someone who will supply the products under your insurance.
Also, call up your insurance plan and ask them what durable medical equipment they cover and what equipment does insurance pay for. Ask them for a directory of local handicap equipment suppliers in your state.
If you find out that you are not qualified under the insurance to pay for this handicapped equipment, be comforted by the fact that these products are quite affordable. Check out our store for medical equipment not always covered by insurance.
Tags: Insurance, Medical Crutches, Medicare