Filed under Handicap Bathroom, Handicap Equipment
Grab Bars For The Handicapped
Grab bars are probably the most useful items in a handicapped shower for anyone would might have trouble standing or positioning their bodies. These grab bars help the person situate themselves to the spot they want.
For anyone in a wheelchair, a grab bar allows them to shower and bathe independently. For the elderly, a grab bar will prevent many accidents that might occur in any wet environment. They will also reduce the strain on the hips and knees, two bodily locations that tend to experience fatigue for older individuals.
Types of Grab Bars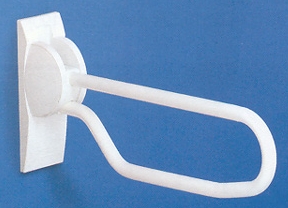 For elderly individuals, the possibility of slip and fall is a huge problem. A solution is to install handicap shower bars where they are needed in the showers and restrooms. There are two basic and different types of grab bar installation styles, a traditional one, that is permanently screwed into the wall and suction handicap grab bars that can be easily removed and placed where needed. Then there are many different angles, styles and designs that will meet any user's needs.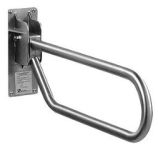 These grab bars can meet the needs of so many individuals such as those in wheelchairs when transferring from one location to the other. For example, in a wheelchair transfer to a toilet, a transfer from a wheelchair to a handicapped shower is aided with a grab bar. You pull your weight towards the grab bar with one hand as you use the other to push off on the wheelchair. This requires a decent amount of upper body strength and may be harder for weaker individuals.
Hand Railings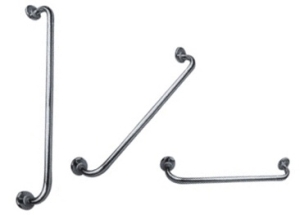 Railings can make it easier for you to get around the exterior and the interior of your home. Angled, horizontal and vertical railings are used in all sorts of environments. You can place one to get up the porch, in the shower, on a bathtub, near the toilet or even in a hallway. Strong bathtub railings can help someone get over a high curb or provide stability support. Toilet grab bars can help an individual get up from a sitting position.
Handicap Shower Grab Bars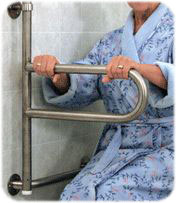 You want at least one grab bar in your handicap shower. I would recommend at least 2 grab bars locations, one near the entrance of the handicapped shower for wheelchair transfer and another inside the shower, to keep oneself stabilized. Where you position the shower grab bars is crucial to the utility of this equipment. Everything should be accessible within range of your reach and installed correctly so it can properly support one's weight. If you are a tall person and require the grab bar higher, then I suggest an angled grab bar that starts off horizontally but breaks off at an angle vertically. Right angles and 120 degree angles are perfect for most needs. Just by having one handicap shower bar, your bathroom and shower life will change dramatically.
Flip Out Horizontal Grab Bars – Place these horizontal grab bars next to your walls. Flip out the safety rail or grab bar when you need it and lock it against the wall when your done. This is a very sturdy grab bar that can support heavier weights.

Shower handrails that are parallel to the walls are also useful as transfer devices but I find grab bars with a fold out option, to be the best. Fold out grab bars can do what their name says, fold out. Once you are done with the grab bars, simply put it back into the upward or wall position. They are capable of supporting 100 to 150 lbs of force. Bariatric grab bars which are heavy duty can support upwards of 250 to 300lbs+.
Costs of Shower Grab Bars
Grab bars can range in price from $20 to $60. The more features and weight a grab bar can support, the more it will cost. If you prefer long angled grab bar designs or grab bars made out of nickel or brass, expect to pay more. However, all are capable of doing their intended jobs, that is, to provide a safety support in a wet shower environment.