Filed under Handicap Equipment
If you have just had surgery on your back, you are probably experiencing difficulty with getting around, bending over, raising your arms and reaching for things in general. That is why post back surgery equipment was invented. Items such as handicap reachers and shower transfer benches are among the many post surgery aids that can assist you while you are recovering from serious medical procedures on your back.
Handicap Reachers
Handicap reachers are special devices which are designed to enable people to reach items that are far away without having to bend their backs or raise their arms too much. They are often made of aluminum and look a lot like devices used to retrieve trash, except that they have a two-pronged claw at the end of the device which can permit you to grab something with a fair amount of delicacy. You can pick up items as small as dropped coins and as large as a newspaper.
Shower Transfer Benches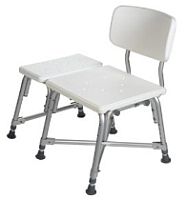 Shower transfer benches are another important device that grants you a certain amount of comfort after you have had back surgery. One thing people hate about surgical procedures is the limitations that they put on hygiene afterward. This may be due to having to avoid getting sutures or protective gauze moist. In the case of back surgery, it may just be the difficulty in showering due to the pain of moving around and working your arms. Using a bench like this in the shower allows the water to simply run down over your body and refresh you during your recovery.
The best news about these handicap devices is the price. Reachers are available from prices as low as ten dollars. Transfer benches for the shower and the tub are little more expensive, but also come with some great options. Simple benches can go for as little as 50 or 60 dollars. Padded and adjustable versions will cost a little more.
List of Recommended Post Back Surgery Equipment
In addition to the items suggested above, here is a longer list of recommended products and gifts for someone after back surgery.
Whether you are planning to have back surgery or already had the surgery, consider these items to assist in the rehabilitation process.
Tags: Handicap Reachers, Showering After Surgery, Transfer Bench
Filed under Disability, Handicap Equipment
People with limited reaching capabilities, find using a handicap reacher tool, is helpful when reaching for things that are difficult to get to such as dropped coins, dropped papers or mail, or even items inside cabinets and refrigerators.
What are Handicap Reachers and Grabbers?
Handicap reachers are devices designed to reach objects from a distance and bring them close enough to grab. These long handled graspers act like hands and fingers once you squeeze the trigger.
Buy Best Recommended Handicap Reachers and Grabbers
Reachers come in several different weights and styles depending on the needs of the individual. There are reacher sticks for the handicapped but anyone with a limited range of motion or reach can use these reaching devices. Some of the different styles of reachers available are listed below.
Aluminum frame reachers are lightweight and easy for the individual to manage.
Rotating head reachers are perfect for picking up small items that are in hard to reach places.
Reachers and handicap grabbers are great for individuals who need lift chairs and have trouble reaching things when they are seated.
A handicapped person with limited arm mobility can use this to reach shelves and high places.
Rotating arm handicap reachers are great for tight spaces where extra movement may be necessary for picking up an item.
Suction cups on reachers aid in grabbing an item securely making even slippery items easy to pick up.
Magnetic tip reachers have a magnet on the tip which helps the individual to pick up small steel parts like screws or bolts.
Foldable reachers are handy when the individual has limited space for storing their reacher, or needs to take the reacher with them when they leave home.
Most reachers utilize a trigger mechanism which helps to ensure a tight grip on the object being picked up.
How Can A Reacher Improve Your Quality of Life?
Reachers can improve the quality of life for people with spinal injuries, arthritis, hip, joint, or bone pain, or simply those people who find using a reaching device is easier, safer, and less strenuous, than bending over to pick something up.



In order to reach and grab items in tight spaces, there are slim sized grabbers made perfect for the elderly. They come with a 1 inch width and have the ability to grab items that are 4 inches in diameter.
Listed below are a few ways people might make good use of their reacher:
Picking the remote control for your television.
Opening drawers or cabinet doors.
Getting an object from a high shelf.
Use it to pick up an item that has fallen in-between two kitchen appliances.
Pulling up socks like some form of dressing aids.
Bring one along with you when you go to the grocery stores and get those items at the top of the shelves.
Since some come with magnetic tip, pick up nails and keys with ease.
Taking a book from a bookshelf.
Retrieve pens and pencils from the floor.
Where Can I Buy a Reacher?
Handicap reachers can be purchased from pharmacies, grocery stores, online stores, and even flea markets. Depending on where you choose to buy your reacher, and the quality of reacher you decide on, the prices may range from $10.00 to $40.00. You can check out our list of recommended reachers and grabbers.
Tags: Foldable Reachers, Handicap Grabbers, Handicap Reachers, Magnetic Tip Reachers