Filed under Handicap Equipment
Non slip food mats benefit a home environment in many ways. Typically, non slip mats are marketed as plate grip mats for the elderly or those needing handicap kitchen aids. Persons needing this adaptive equipment may be those with limited muscle control, the blind, those having the use of only one hand or those suffering from arthritis. These non slip rectangular mats stabilize sliding plates or other wayward kitchen utensils in order to prevent messes or injuries.
When disabilities interfere with daily living activities, the use of non slip mats is an immense benefit to those who value their independence. This is especially true if a person really enjoys cooking, baking or eating. In the kitchen, non slip pads stabilize mixing bowls, blenders, food processors and baking dishes.
Non Slip Food Mat's Many Uses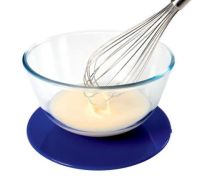 At the dining table, non slip mats are used to stabilize a person's plate. While there are special plates with rubberized bottoms for this purpose, they can be costly. By purchasing these plate grip mats, persons can use the dishes they already have. In addition, the mat is easy to roll up for use when dining out. While this is their primary use, non slip mats have many other uses. Specifically, non slip mats can also be used to:
Hold items on a lap board;
Keep telephone books or paperback manuals from slipping on a shelf;
Hold books or paper on a sloping desk or draftsman table;
Makes for great cooking aids to keep bowls in place.
Keep a baby from slipping out of a high chair;
Keep items from sliding around in a boat or recreational vehicle;
Hold a bed skirt in place;
Keep mats, rugs or furniture from slipping on a smooth floor;
Stabilize a person's feet when trying to stand.
Buy Recommended Non Slip Mats
Non Slip Rectangular Food Mats – Available in colors blue, red, or yellow. Measures 10 by 7.25 inches. Good size for most plates. There are larger sizes available as well.
Non Slip Circular Food Mats – Great for keeping bowls in place as you whisk or stir. Measures 8 inches in diameter.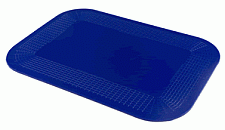 Non slip mats are not effective when placed on a wet surface, when they become too dirty or when they are wet. Keep them in good condition by washing them in soapy, warm water and allowing them to dry completely before re-using. Given the many benefits and uses of these mats, their cost is reasonable. Prices range from $12 for round, 8-inch mats to $23 for larger mats approximately the size of an average table placemat.
Tags: Handicap Kitchen Aids, Handicap Kitchens
Filed under Disability
Anyone living with a disability or caring for individuals with physical difficulties may find navigating around a conventional style kitchen quite cumbersome. The benefits of adaptive kitchens can make all the difference when it comes to maintaining independence at home for these individuals.
The Americans with Disabilities Guidelines have very stringent federal guidelines that kitchen manufacturers and builder must adhere to in order to create a safe and accessible space for those with disabilities. Some of the provisions include dimensional tolerances, acceptable aisle widths, rescue space in the event of needed outside assistance, as well as proper entrance and exit dimensions for doors.
Remodeling Your Kitchen
Adaptive kitchen designs can be arranged in a variety of ways depending upon the specific consumer need. There are kitchen remodeling designs that can meet the needs of wheelchair-bound individuals, those short in stature, individuals who need extra room navigating with a handicap walker and as well as those who utilize electric scooters or carts for mobility.
Start by dividing your kitchen in sections that need to be accessed. Consider the spacing in the kitchen floor and then the height of countertops, faucets and cabinets. Once you have the larger aspects covered, work on kitchen accessories like pots, plates, pans, dishes and other helpful kitchen aids.
Some of the kitchen adaptations that are made to better suit individuals with disabilities are adjustable countertops, adaptive chopping boards, cabinet and shelving lifts, worktop lifts for sinks, as well as expandable table space for wheelchair access. The adjustments that are involved in creating adaptive kitchens are very individual-specific. Kitchen fixtures and appliances can be height adjusted for those of short stature as well.
Adaptive Cooking Aids In The Kitchen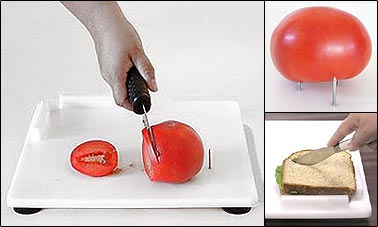 In order to make cooking and eating easier for the disabled, there are aids widely available such as,
These are just a few of the handicap cooking aids found in a handicap kitchen.
Ideal Kitchen Sink For Wheelchair Users
One of the main issues a person using a wheelchair may encounter is inaccessibility of the kitchen sink. This can be the most important kitchen adaptation that a builder will face. Ideally, the sink should be designed with space beneath it for a wheelchair or seat. Similar to the pedestal sinks or wall mounted sinks that can be found in your bathroom, these accessible kitchen sinks must fulfill the needs of a wheelchair user by eliminating or reducing that space below. The pipes should be covered or positioned away from the legs. The design of the faucet should also be taken into consideration as to the shape and ease of use.
Individuals with disabilities desire to remain as independent as possible, regardless of the physical limitations that may be placed upon them. With a quality fabricated adaptive kitchen, keeping on this independent path can be made easier to obtain.