Filed under Disability
Many persons with physical disabilities have difficulty with daily activities such as eating and drinking. Many neurological conditions, such as cerebral palsy, can cause hand tremors or weak grasp and therefore make an affected person likely to spill food and beverages. Clothing protectors such as aprons or bibs treated with stain-resistant sprays are helpful, as are spill-proof cups. Using the two in combination, you can drink without worry of spilling on yourself or your clothes.
What Are The Best Spill Proof Cups
Many different types of cups are sold as spill-proof, from "sippy-cups" for young children to travel mugs for commuting coffee-drinkers. Not all of these are suitable for use by persons with disabilities. Just because a cup has a lid does not automatically make it spill-proof. Many supposedly "spill-proof" cups do spill or at least leak if the lid isn't screwed on tightly.
For the disabled, drinking cups need to be easy to grip and lift with a secure lid that will not pop off if the cup is dropped. In general, twist-on lids with a rubber gasket seal better than those that merely snap on. The opening through which the user sips should be small, easy to open and close, and well-sealed when closed. The base of the cup should be wider than the mouth and slightly weighted, so it won't be easily knocked over by unintentional movement. The cup should also be made of unbreakable material, either plastic or metal.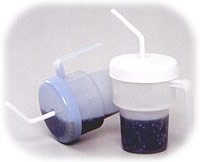 Recommended Spill Proof Cups
Spill Proof Cups – Also know as Kennedy Cups, these spill proof cups can be turned upside and will not spill out once the top is screwed on tightly. Great for someone who has tremors or drinks in bed.
Double Handle Cups – Has a handle on the left and right sides that provides more stability when drinking. Has an easy to use anti-splash and feeding spout.
Cups with Double Handles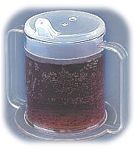 Whether or not the cup should have a handle (or even two handles), and the size and type of the handle, is a matter of personal preference and should be determined by the individual needs of the person who will use it. An occupational or physical therapist can recommend the best type of cup for each person. Those who are unable to pinch a small handle or grip around a cup usually find a large hook-style handle the easiest to use; the hook can fit over the palm of the hand without requiring grip or pinch.
There are many different styles of adaptive cups, designed to help persons with a wide range of physical disabilities. Finding the right cup for each person's individual needs may require a bit of trial and error, but once found it can make mealtimes much easier.
Tags: Handicap Drinking Cups
Filed under Disability, Handicap Bedroom, Handicap Equipment
Little things truly mean a lot when it comes to overcoming physical limitations. Difficulties in gripping, lifting, tilting the head, or swallowing need not be a barrier when using a cup.
Easy grip cups, nosey cups, double handle cups, and feeding cups come in a variety of styles and materials that make them accessible to the people who need them. Well-designed handicap cups can be important aids in returning home sooner by making eating and drinking easier. Proper cup function can promote independence.
Drinking cups for the disabled can allow people to drink comfortably while lying in bed or while sitting upright without tipping the head. People whose hands shake and suffer from tremors can enjoy the benefits of spill-resistant lids. Brims designed to channel fluids to the mouth can help people with swallowing difficulties. Specially designed lids or spouts can limit the flow of fluid to prevent gagging or choking. Double handle cups and easy grip cups can compensate for limited grip strength, or hand and arm conditions that make a standard mug or cup difficult to hold or lift.
Recommended Feeding Cups
Pill Swallowing Cups – These pill cups help pills go down smoothly in your throat and prevent them from sticking. Simply drink naturally from the cup. Kids who have trouble swallowing pills will find the mixing of the pills and fluids together very helpful. Those with neck pain or limited neck movement will not have to tilt their heads backwards. This is a great gift for someone using medicine and pill organizers.
Elderly Feeding Cups – A vent hole in the feeding cups allows the feeder to control the amount and flow of fluids with a finger. No more dribbling of water and no more sitting up or raising the head to drink. These are great feeding cups for those who are bed ridden, unable to feed themselves or require post stroke equipment.
Handicap Drinking Cups
Depending on design and material, cups can cost as little as $2, though most designs range from $9 to $20. Cups of finer material or more attractive design, or more highly specialized cups, can cost $45 or more. These are good additions to handicap eating aids.
Most drinking cups for people with disabilities are designed to be easily washable, and are often dishwasher-safe even at institutional water temperatures and pressures. Some can even be safely sterilized in an autoclave. They are a well designed piece of adaptive equipment that blends right in with ordinary home decor. These cups are typical made of high quality plastics specially chosen to meet particular needs. Clear sides with volume markings make it easy to monitor intake. Opaque finishes can provide eye-pleasing color or even imitate the look of ceramics. Choose the best type of cup or mug to promote your health and independence.
Tags: Handicap Drinking Cups