Filed under Disability, Handicap Bathroom
Urinary and fecal incontinence can be disabling and embarrassing, but it is a fact of life for many home-bound patients. Portable bedside toilets provide ease and comfort for people who have trouble making it to the bathroom. Because toilet buckets can be messy, medical suppliers offer commode liners for quick cleanups.
Disposable commode liners are ideal for quick cleanups at home or during travel, and they work with most bedside commode pails. These handy, inexpensive bags are a hygienic alternative to traditional commode cleaning and washing.
Liner bags eliminate contact between caregivers and human waste, so bedside toilet areas stay clean and sanitary. With disposable commode liners, toilet cleaning has never been easier.
Disposable Commode Liners
Disposable commode liners have several benefits for the home environment, and they are also useful on the road. Not only do they protect the health of home-bound patients and caregivers, but they also improve their quality of life. Toilet liners eliminate the messy chore of cleaning portable bedside commodes, and they improve the morale of everyone involved.
Commode liners contain absorbent incontinence pads that are made with special gelling agents. The pads absorb urine and feces, and the gel solidifies the waste to prevent splashes and spills during cleaning. The gelling agent also neutralizes odors and harmful contaminants to reduce the spread of infection. Commode cleanup is fast and efficient. 

Most disposable commode liners are good for three to five uses. This usually means a full caregiver shift. Most liners are latex-free, so they are safe for people with sensitivities that harm skin. 

Portable toilet liners save time and the environment. Cleanup means a simple seal and toss into a garbage can after use. Biodegradable bags are eco-friendly and approved for land-fills. 
Disposable Commode Liner Costs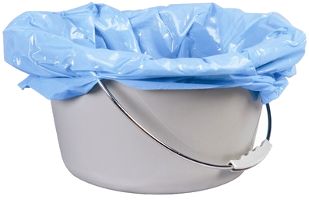 Disposable commode liners are available in several different quantities and box sizes, and they are priced to suit any budget. The typical cost ranges from $30 for a pack of twelve bags to more than $300 for a case of toilet liners.
Consumers can purchase commode liners from most medical supply stores and some online retailers. Most businesses offer several payment options and delivery methods. Return policies vary by company.
Disposable Commode Liner Maintenance
Disposable commode liners require very little maintenance, so they are easy and convenient to use. Cleaning bedside commodes involves lifting the used bags out of commode pails, sealing them with adhesive strips and tossing them away. This easy, 30-second cleanup replaces the ten minutes it normally takes to wash and sanitize portable bedside pails.
Commode liners are indispensable aids for caregivers of home-bound patients. They are also hygienic for the patients themselves. They offer a good alternative to traditional cleanups after the less comfortable moments in life.
Tags: Bedside Commodes
Filed under Handicap Bathroom, Handicap Equipment
The bathroom is a likely spot for accidents, such as slipping or falling, to occur. Handicap toilet aids are extremely useful in preventing such accidents for those with mobility or dexterity issues due to age or illness.
Handicap toilet aids have many benefits for their users. They bring about a sense of independence while adding privacy and convenience to toilet usage. These devices add an element of safety that can bring peace of mind for the user as well as the caregiver.
Elevated Toilet Seats
An elevated toilet seat lessens the distance that one has to move when getting on or off the toilet. Elevated toilet seats come in hard plastic or soft cushioned varieties. The seats are comfortable and contoured to evenly distribute one's weight. Elevated toilet seats are designed with a wide frontal opening to give easy access for personal cleaning. Some elevated toilet seats sit on top of a standard toilet seat while others take the place of a toilet seat. They can be purchased with or without a lid.
Toilet Safety Frames
A toilet safety frame may be used in conjunction with an elevated toilet seat or by itself. The toilet safety frame merely provides arms that attach to the toilet and may be used to assist someone when sitting down or getting up from the toilet. A toilet safety frame may be placed directly over or attached to a toilet.
If you have balance issues when wiping, be sure to have a sturdy grab bar installed nearby. Use the opposite hand to hold on while the other hand is wiping. This should give you the necessary support. Additionally, there are long reach wiping devices to help if you are awkwardly moving in order to reach that backside area.
Bedside Commodes
Bedside commodes are an excellent option for those with limited mobility who may not be able to walk all the way to the bathroom. Commodes come with various features depending on one's needs and preferences. They can be found with or without wheels. Many of them come with an adjustable seat. Some commodes are actually a three-in-one system that can be converted to an elevated toilet seat or a toilet safety frame.
Toilet Wiping Aids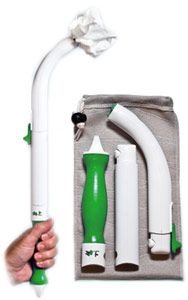 A toilet wiping aid extends a person's reach to assist with personal cleaning. It is a useful hygiene aid for anyone with limited dexterity. Toilet wiping aids can be used with toilet paper or moistened wipes. Many of them have a quick release button for convenient and sanitary disposal of tissues or wipes. Toilet wiping aids can be found as extension wands or tongs. Here are two highly recommended bathroom wiping assistants that does a great job of wiping.
Wiping Wands – Multipurpose wiping assistant that extends your reach, applies lotions and gently wipes. Very sturdy.
Backside Wipers – Simply stuff some toilet paper into the head of this device and wipe. Affordable and easy to use.
Handicap toilet aids are designed to be sanitary and easy to clean. Little maintenance is required. The cost of handicap toilet aids varies depending on the type and construction. Handicap toilet aids constructed of stainless steel will cost more than those made with plastic.
Tags: Bedside Commodes, Wiping Aids