Filed under Handicap Bedroom
Getting a good night's sleep is essential to optimal health. Ironically, sometimes it is our health that keeps us from getting a perfect night's rest.
Those who suffer from chronic diseases such as back pain, neck pain, circulation problems, heart burn, hiatal hernia, fibromyalgia as well as various other body discomforts can find a restful sleep nearly impossible. Pregnancy and surgery recovery can also get in the way of a peaceful night. Fortunately, there are bed rest aids and after surgery pillows available to assist in providing soothing comfort and total relaxation to lead one to blissful respite.
Foam Pillow Wedges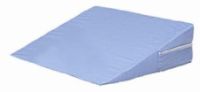 One of these essential aids is a foam pillow wedge. These wedges gently elevate your head and help support your back and take pressure off your spine. The gentle incline serves to make breathing easier and circulation better. They also help from keeping the body from shifting. Foam pillow wedges mold easily to your body and allow for better air flow.
After Surgery Pillows
One of the rehabilitation and recuperation measures after surgery is to reduce the swelling and ease the discomfort on the affected area. So whether you had ACL surgery, hip replacement, heart or abdominal surgery, please be sure to use after surgery pillows.
Leg Wedges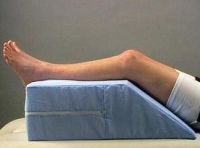 Another invaluable aid for restless, pain-ridden sleepers are leg wedges. Like the pillow wedge, a leg wedge serves to elevate, in this case, the legs which will be provided with pressure-free relaxation. These leg wedges take the weight off of the back, pelvis, hips and knees as well as help reduce swelling in the legs and ankles. They also serve to ease leg muscle cramps. And, these wedges are perfect for pregnant women, those who need after-surgery recuperation as well as for those who suffer from chronic pain in their lower body.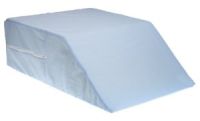 Feeling good has never been easier or more affordable. Both of these wedges are portable, easy to care for and priced reasonably. The price for either type of these rest aids ranges from about $25 to $150, depending on the material of the wedge. They are cared for in the same manner you would care for your pillow or other bedding.
Buy Recommended Bed Wedges
So, when it's time for sleep, raise your comfort level effortlessly by giving yourself the luxury of bed rest aids designed specifically for your needs. Finally, you will experience a well-deserved sense of relaxation. Imagine waking up refreshed and ready for another beautiful day.
Tags: After Surgery Pillows, Bed Rest Pillows, Foam Pillow Wedges, Leg Wedges
Filed under Handicap Bedroom
The right equipment can help make anyone's time spent on bed rest more comfortable. During a difficult pregnancy, after hospital procedures and surgery, during an acute illness, or for those with temporary or permanent handicaps, it is not uncommon for people to find themselves in need of best rest equipment.
Bed Rest Pillows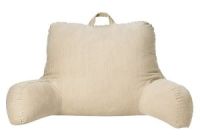 The most commonly sought after item is a bed rest pillow. Designed to be more supportive than a regular pillow, the bed rest pillow is more firm and shaped like the back and arms of a chair. While most will support the lower back and arms, some do extend higher to help support the neck. If you want to save your neck and back from excessive strain, when laying head up on a bed, then get some bed rest pillows with arms. These back saving pillows can range anywhere from $20-$120. There are also leg lift pillows and bed wedge pillows that enhance circulation when you sleep. They can reduce pressure on your spine, raise your legs to the desired height for optimal blood flow and support your back.
Cleaning Bed Rest Pillows
A damp rag will wipe away spills or stains. Care should always be taken not to soak the pillow. Make sure water does not seep into the pillow filling because that can result in a moldy or musty smell. Use a hair dryer or place the pillow in direct sunlight. Removable washable covers can be used to make cleaning bed rest pillows easier.
Bed Rest Trays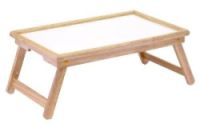 A simple bed rest tray with folding legs to set up over the lap makes a great dining surface or laptop desk. These convenient bed rest tables can run anywhere upwards of $25. They are made from wood or metal and are available in many different sizes and functioning styles. The most common trays are plain wooden tray with folding legs, but some can even be found with dual adjustable tops. If you require a bed rest tray with wheels, consider rolling tray tables. They can be easily pushed away from the bed when you are done with your book, computer or meal. Read more about them in the over bed tables section. Bed trays can be cleaned with the swipe of a rag after each use and stored almost anywhere due to their compact nature.
Over Bed Tables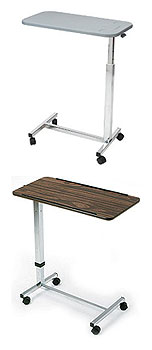 Hospital style over bed tables are another nice addition to bed rest equipment. Although they are larger and not as easily stored, they are nice for having readily available necessities accessible at all times. Since they can swing over the bed or away with a simple push, patients on bed rest can often help themselves with anything kept on the bed rest table. Being able to reach their own medications, food and drinks, and even entertainment will give the patient more of a feeling of freedom rather than having to call on someone else every time they need something. Over bed tables can cost anywhere from $50 and up depending on the size and functionality of the table.
Buy Best Recommended Bed Rest Equipment
All bed rest equipment can be easily found online, in common retail stores, and through medical supply companies. Taking the time to compare options always ensures quality at a reasonable price. Remember to check out the best recommended list of bed rest equipment.
So listen to your doctor and get some bed rest but make sure you are comfortable.