Filed under Handicap Bathroom
Bath mats for the disabled come in a wide variety of textures and styles. They are mainly used to make showering and bathing easier.
When placed on the floor of the tub, bath mats help prevent men and women from slipping and sliding around. This ultimately offers a safety tool that prevents further injuries. Elderly individuals can also use these kinds of textured bath mats for that extra reassurance of safety in the bathroom.
Extra Large Shower Mats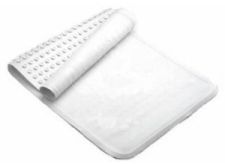 Extra large shower mats can improve the lives of the disabled quite considerably. Because they are generally built with a slip- resistant texture, they will prevent people from falling while in the shower. If a man or woman has sustained leg injuries that make it difficult for him/her to stand up without help, then they may need a caregiver with them while they bathe. Shower mats, can in many cases, eliminate the need for a caregiver.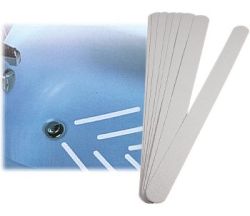 Bath mats are not the only option for the disabled. There are sticky adhesive safety treads that can be placed wherever necessary. Near the entrance of the tubs, only bath steps or along the floor tiles are just a few places that safety treads can add more traction. They may provide just what is needed for people to gain control of themselves and wash all areas of the body. The mats are especially useful when individuals are in the process of washing their lower legs and feet. If they are standing in the shower, washing these areas will require some bending motion that can potentially throw people off balance.
While shower grab bars work great, they require the use of your hands and those same hands might be preoccupied with scrubbing and cleaning your body. Bath mats can provide that extra little stability that will ensure safety. Install these mats for your elderly or disabled parents. This is particularly important when older men and women live alone. Textured bath mats can prevent fractures that are caused by falls on slippery surfaces.
Buying Bath Mats
Bath mats for the disabled can be purchased for quite reasonable prices. Even the best bath mats can probably be bought for only a few tens of dollars. They are excellent products, and can work wonders for many different kinds of people. Here is a list of recommended bath mats.
Maintaining Bath Mats
Shower mat maintenance is minimal and easy. The mats should be cleaned routinely to remove dirt build- up and to keep the product looking nice. A dirty mat can harbor bacteria, mold and fungus. Some warm water and light soap mix should work fine. For harder-to-remove dirt, try diluted bleach or vinegar. Be sure to let the product soak overnight for maximum cleaning. In all cases, the manufacturer's instructions should be followed so that no undue harm is caused to the mat. With proper maintenance, the mat should last a long time and should help with many different aspects of safety.
Tags: Bathtub Safety Treads, Extra Large Shower Mats
Filed under Handicap Bathroom
For most people bathtub safety does not become an issue until they are older, injured or disabled. Households with toddlers and young children need to be aware of, and implement, bathtub safety as well.
But even an able-bodied, younger person might benefit from some precautionary bathtub safety equipment. The bathroom is one of the most dangerous rooms in the home in terms of household safety, and thousands of slippery bathroom floors and bathtub accidents occur each year in the United States. It is easy and relatively inexpensive to install a few products that make your bathroom more safe and sound, for you and your houseguests.
Bathtub Safety Bars and Handrails
Do not wait for an injury to install bathtub safety bars or handrails in your shower and bathtub. Even if you do not have an immediate use for these, handrails may be of benefit to a toddler, child, or older houseguest. Handrails and bathtub grab bars can help you safely enter and exit the bathtub, and have been found to reduce accidents in the bathroom. Install the bars yourself, or have someone install them for you to make sure they are securely placed for optimum safety.
Bathtub Safety Treads
Stick-on treads provide traction to prevent slipping in the bathtub or shower. Nowadays, safety treads are available in many colors and styles to complement your bathroom decor. Place the treads on the bottom of your dry bathtub easily and within minutes. They can be applied like bathtub stickers or decals.
Bathtub Mats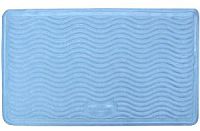 Bathtub mats are another inexpensive way to make your bathtub and shower safer. When there is an excessive accumulation of soaps and shampoos on the floor, this can result in a slip and fall. Safe bathtub mats can add more footing and give your feet some extra grip in an wet environment. This is also a bathroom product available in a variety of colors and styles so that they match the rest of your bathroom.
Grab bars, handicap handrails, safety treads, and mats may be purchased at any major department store and come in a wide range of prices. Most large bathroom retailers also sell these important home safety products. Be preventive in bathroom safety by making sure you have these features in your household.
Tags: Bathtub Safety Bars and Handrails, Bathtub Safety Treads