Filed under Handicap Bathroom, Lifts
Bathroom floors and tub surfaces can be slippery, making getting out of the tub challenging for individuals with mobility issues.
If a fall should occur, all of the hard surfaces and sharp corners in a bathroom make serious injury a distinct possibility. Installing and using devices to help get out of the tub can reduce the risks and make the bathtub easier to use and enjoy.
Bath Assistance Devices
Different Types
The most common type of device to help people get out of the tub is a bathtub rail. Bathtub rails come in various styles. The most basic is a straight metal bar that attaches to the shower wall or to the side of the bathtub. These can be installed vertically or horizontally. Some people also like using angled bathtub rails, bathtub chairs, bathtub benches or shower poles. Some of these rails have a textured surface to help make gripping easier and others are colored to make it easier for people with impaired eyesight to spot them. For people with severe mobility problems, bathtub lifts are another option. Bathtub lifts work by slowly lifting the seated person into and out of the tub.
Benefits
For many people, devices that help improve bathroom maneuverability are necessary to continue using the bathtub without assistance. Without these devices, independent living becomes an impossibility. Being able to continue taking baths without assistance helps elderly or handicapped individuals maintain a sense of independence that can stave off depression and anxiety. Asking for assistance during a bath can be embarrassing for some, so using devices that help maintain independence in the bathroom can make a person more self confident.
Using These Devices
Individuals who are handicapped find bath rails and other devices to help get out of the tub extremely helpful. Elderly people, including those who have physical mobility issues or neurodegenerative problems such as dementia, may also find these devices useful. To properly use these items, they must be positioned in the areas that will allow for easy access and safety. Along the walls of the bathtub, on the bathtub curb and heights that meet ADA requirements are a good start.
Maintenance of bathroom mobility devices is typically simple. Most of these devices should be inspected visually for wear and tear on a regular basis. Bath rails should be inspected for loosening and strength. Give the rail a tug and check for any rust. Devices with mechanical parts should not be used if they start to operate in a poor or unusual way such as loud squeaking or rattling that is not in accordance with normal operations. If problems do occur, a professional installer can help fix the device.
Tags: Bath Lifts, Bathtub Grab Rails, Bathtub Safety Bars and Handrails
Filed under Handicap Bathroom, Lifts
Bathtub Lifts Help People Maintain Their Independence
Elderly people and those with certain handicaps often have a lot of trouble in the shower. The problems occur because the bathroom is naturally a wet environment and so it is very easy to slip. In addition, most bathtubs are equipped with a high curb that requires the user to get in and out by lifting up one leg at a time. This creates instability and is impossible for those who have difficulties with mobility. And since not everyone can afford a handicap shower, we have options. Fortunately, with invention of handicap bath lifts, showering and bathing has become much easier and safer for those who used to have trouble with it.
How many times have you heard of a senior who live alone slipping in the bathtub and breaking a hip? As we age, the independence that we have enjoyed all of our adult lives becomes more and more difficult to maintain because we may not be as physically able to perform certain duties. Elderly people and those with physical handicaps often have to depend on other people, whether professional caregivers or family members, to aid them with bathing.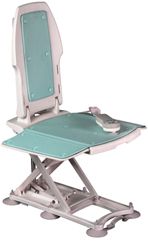 However, taking a bath or shower should not be dangerous. It should be an activity that can be done alone, and it should be relaxing. Using a handicap bathtub lift is one of the best ways to make sure that those with limited mobility are able to take a safe shower by themselves. A bathtub lowering chair device like this can return to the person, a much-needed sense of freedom and privacy, and away from the dependence that they so often have to deal with. So create your own bathtubs with lifts.
Bath Lifts
There are many types of bathtub lift seats that are specifically designed to be used in the shower, but bath lifts can assist a person in getting in and out of the bathtub by working as a lifting and lowering bathtub chair. You do not need a tub hoist or other tub lifts with these devices. Then, once the person is safely in the tub, they can use the lift as a chair while they cleanse themselves, minimizing the risk of injury while bathing. The operation of handicap bathroom lifts consists of pressing a button or lever that raises or lowers a person into the water. Scroll down below for some recommended bath lifts to buy.
How use to a bath lift
Sit on the side of the bath curb or the padded seats of the bath lift. Use this area to undress and prepare for the bath.
Situate yourself, find the nearest grab bar and swing your legs into bathing position while using the grab bar as support.
At this point you should be laying on the handicap bath lift.
Press the lever to lower yourself into the water.
Let your muscles relax in the warm bath and just freely lay back to soak in the water.
When you are done, raise up the seat.
Slide over to the bath edge and grab the handicap bar.
Lift your legs over the bath side while holding the bar.
Rotate on the seat and prepare for drying and redressing.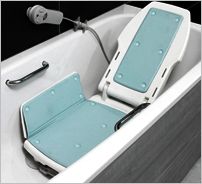 There are many different companies that manufacture and sell bathtub lifts, and every model varies in price and includes different features. Most units run on a rechargeable battery so that there is no worry about mixing water and electricity together. Also, the majority of the lifts that are available on the market are anchored to the ground by powerful suction cups with a mechanism that makes it easy to remove the lift when it is not needed.
Buy BathTub Lifts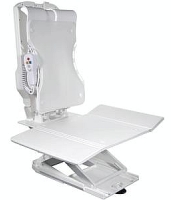 Stable Recliner Bath Lift – This bath lift can recline to many angles such as 10, 35, and 45 degrees. With a weight capacity of 300 lbs and strong suction pads to keep it on the tub, this lift is a sturdy and stable alternative for handicap bathtubs. Lifetime guarantee on the frame and motor.
Everyone needs to have something that they can do without help and with dignity. While circumstances can sometimes make this difficult, utilizing handicap bathtub lifts can help significantly.