A tub transfer bench is perfect for anyone who has trouble getting over that bath tub edge. It is even better for wheelchair users because it creates a bridge for easy wheelchair to tub transfer. The wheelchair individual lifts themselves onto the edge of the bench and slowly slides across until they are in the tub. A handicapped bathroom would not be complete without one.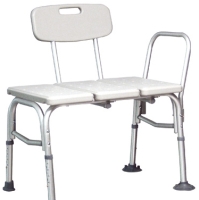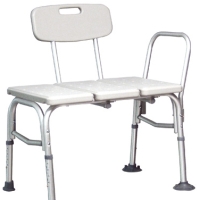 The transfer bench also eliminates that dangerous first step into the tub for anyone with limited mobility or recently had knee or hip surgery. The danger comes from the slippery wet floors in a bathroom. Did you know that at least 1/3 of seniors commonly fall? That number is increased in a wet bathroom floor environment. Discover some of the best shower benches for the elderly and pick one that is most comfortable for your needs.
Bathtub Safety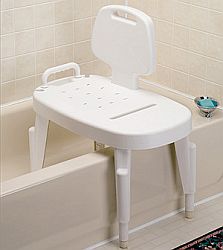 Stability and safety are the two things that the tub transfer benches provide for the user. If you are unable to stand for long periods during a shower, then use the bench as a tub shower chair. The bath transfer benches are height adjustable with non-slip rubber feet capable of holding up 300 pounds. Some unique shower benches offer a split in the design of the seats for you to insert the shower curtains. These benches are also helpful for someone with split shower doors as long as it fits. This prevents water splashing outside of the tub. Most have holes in the seats to allow drainage of water.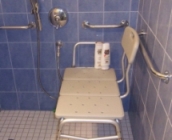 They can sit down and use a detachable shower head installed nearby for washing. Increase the safety around and in the tub by adding bathtub handicap grab bars and/or bathtub rails for transfers and stability. Make sure the tub transfer bench has at least one arm for positioning yourself and assisting with transfers in the bathtub.
Transfer Benches and Shower Curtains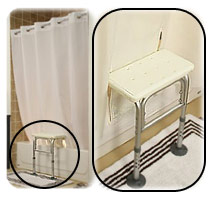 Since transfer benches are placed with one leg in the bathtub and one leg out, this means there is the possibility of getting your floors wet during showers and baths. Luckily, there is a slit space usually in the seat of the shower transfer benches that allows you to close the shower curtains and tuck in the curtains to prevent water from splashing out. The space is about 1 inch. Not all shower transfer benches offer this option. Check out the recommended transfer benches to see which ones offer this option.
Make Your Own Shower Transfer Bench Curtains
If you want more coverage for your shower and stop the water from spraying out, get some shower curtains or shower curtain liners and cut a slit where it meets the transfer bench. This will allow the shower curtains or liners to fall down. The process is quite simple and requires only a few minutes. You don't have to remove any fabric, simply make cuts.
What you need: a scissor, a marker, pen or pencil, ruler or measuring tape (3 items)
Measure the height of the seat and mark it on the shower curtain.
Measure the width of the bench and mark this width on the shower curtain. Draw two dots on the curtain that represents the width.
Cut vertically from the dots. This will create a flap in the center of the curtain.
Put the flap into the transfer bench slit, slot or groove. Now water will not splash out when you use your shower curtains for transfer benches.
Make sure to get a shower curtain that is thicker in size so it stays in place.
Tub Transfer Bench Costs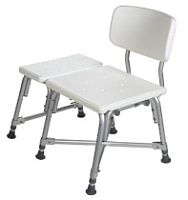 Since there are no permanent modifications to the tub or bathroom, these benches are relatively cheap compared to other options like a handicap shower. For someone who is living in an apartment and are unable to make changes to their surroundings, the cheaper shower transfer bench is the perfect solution. The installation requires nothing more than placing the transfer bench into place. Some may require initial construction, largely consisting of, snapping and screwing items together.
Handicap Benches Costs
Consider your own needs when purchasing a tub transfer bench. Prices can range from $50 to $400 for the higher model bath transfer benches that include more options. Check below for some recommended tub and best shower transfer benches.
Weight – Most bath benches are capable of supporting 250-300lbs but there are bariatric bath benches that can support up to 850lbs. If you require these bariatric benches, they will be more expensive than the standard brands.
Material – The most common benches are made of teak, metal and plastic material.
Size – Measure the height of the bathtub curb and the width of the tub. Bathtub widths should be at least 17 to 22 inches to accommodate most benches. Transfer seat heights are adjustable and are usually from 17 to 21 inches high.
Options – Custom your own shower transfer bench with a backrests or attached handrails for more safety measures.
Recommended Best Shower Benches