Every time someone limited in their physical abilities, whether by age or illness, tries getting into or out of a standard bathtub or shower they are taking a huge and unnecessary risk. Dangers such as the loss of balance or slipping and falling can prevent them maintaining their own personal hygiene and health with dignity and peace of mind.
The quality of life for seniors and those with limited mobility can be greatly enhanced by transforming existing bathtubs or showers into a safe, easy-access shower enclosures that are both easy to use and keep clean. Shower stalls for seniors allow for greater freedom, flexibility, and independence. Handicap showers can improve safety while being both comfortable and private.
Added Safety Features of Senior Shower Stalls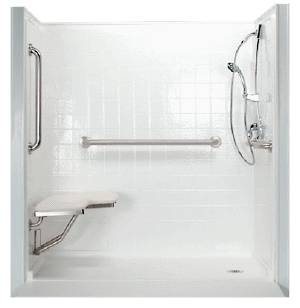 Additional safety features are often available to customize the shower stall according to personal preference and needs. These features include grab bars, a built-in seat, a hand-held shower sprayer, and a single handle shower control, which allows for easier temperature monitoring. Many shower stalls are designed with a slight slope towards the shower drain in order to avoid water leaking out of the shower area, resulting in a slippery floor. Shower stalls eliminate the need for stepping up, down, or into the shower, thus greatly lessening the chance of an accident occurring.
Showers for Seniors
Showers for the elderly are made of durable, slip-resistant fiberglass and acrylic that, with proper care, will resist cracking and peeling as well as mildew and stains. Shower stalls can easily be cleaned with mild soap.
Existing showers can easily be remodeled into handicap showers or as showers for the elderly. Converting an existing shower or tub is much less expensive than total bathroom remodeling. In some cases, insurance, government agencies, or other associations might cover part or all of the costs. A shower stall for a senior can actually provide more usable interior space than a traditional bathtub.
Shower stalls are safe and easy to use while providing an unmatched level of freedom and comfort.