When people age, the simple tasks of life can become tasking. Even showering can become a chore because of all the hard to reach places and the constant stretching and reaching of the arms. Being elderly does not mean that one should have to give up all independence and ask someone to help them bathe. There are finally simple solutions to help the elderly remain independent in their later years.
The areas of someone's life, that uses these shower heads in their handicap showers, will gain a sense of increased independence, the ability to still perform an everyday task, and the comfort to know that something once difficult is now easy once again.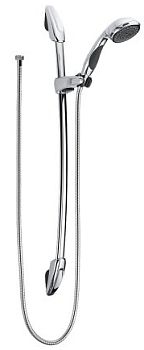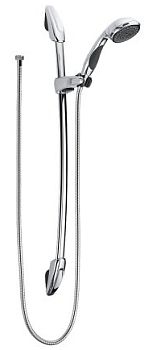 Hand held shower heads for the elderly are a great benefit for those who find it difficult to move. These easy to reach shower heads come with many options such as adjustable height and extendable slide bar shower heads. There are some adjustable shower heads that offer long hoses up to 80 inches in length. This showerhead can reach any angle and helps to cleanse the body thoroughly.
Handicap Shower Heads
Handicapped people often find it difficult to perform simple tasks such as bathing as well. The same shower heads that are ideal for the elderly are ideal handicap shower heads as well. These benefit those that are handicapped by helping them to be able to have movement with the flexible shower head.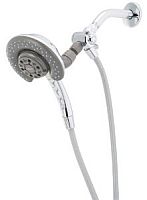 Other shower heads that are also beneficial for the elderly are those that are larger in size. In addition to the long hose, some shower heads measure 6 inches around up to 8 inches around. These platter size shower heads help spray water all over the entire area of the walk in shower enclosure. This helps those with difficulty moving to reach the areas needed with minimal to no effort.
The costs of these shower heads are quite affordable compared to the benefits gained. The cost ranges from $40 to $120 and can be cheaper with fewer accessories and options. Many models and variations are available.
Buy Recommended Shower Heads
There is enough to worry about when growing older, when it becomes difficult to do everyday things; it is comforting to know that there are options and products that help as people age.