Selecting a shower chair shouldn't be too difficult as long as you know exactly what you're looking for. It comes down to what exactly your needs are. The ultimate goal here is to get yourself a shower chair that helps you to feel completely safe and totally comfortable. Consider if you are capable of showering standing up for a couple of minutes. The amount of time you are physically able to stand up will determine your shower chair needs. Here are a few shower chair options.
Shower Wheelchair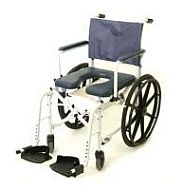 If you are completely unable to stand up while showering, then you might be looking for a shower chair with wheels. A good, strong shower wheelchair can really make or break a comfortable, relatively easy showering experience. There are transport wheelchairs for showering that are waterproof and will allow you to slip easily in and out of the shower. You can use these shower chairs to roll someone into a shower as long as the entrance is handicap accessible. Here is what to look for when buying a new shower wheelchair.
Full Range of Movement
You are looking for a chair with wheels that let you move within a full 360 degrees range so as to allow you to slide in and out of the shower moving forward, backward, to the side or in any other direction. If you have an incredibly roomy shower and bathroom, it might not be an issue, but most of us will have trouble moving a chair around inside the shower itself, so you should be able to slide it into position right from outside the shower.
Smooth, Waterproof Surface
The surface of the wheelchair, all of the padding and so on, has to be waterproof or else you're going to looking at mildew and rust problems before long. This is why you should look for a chair specially built for the shower. Trying to use a basic transport chair that isn't waterproof, that wasn't built specifically for shower use isn't such a great idea, as it simply won't hold up to that much exposure to water, soap and shampoo.
Additional Tip : Ask yourself if the shower chair can support your weight?
Sturdy Shower Chairs
These shower chairs have four sturdy legs that can be placed in any spot in your showering environment. They take up minimal space while providing a resting area for those who have trouble standing for long periods. The elderly will find these shower chairs very convenient. You can purchase one with a backrest, without armrests or simply as a shower stool.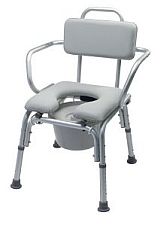 Commode Shower Chairs
They are similar to transport wheelchairs with usually one exception. These chairs have a hole in the middle of the seat and can be used as a toilet. They will have armrests and can be padded in the arms and seat area.
Buy Best Recommended Shower Chairs
Beyond all these shower chair options, just make sure that your chair is comfortable, that it has solid, strong-gripping wheels (if you want wheels) to keep from slipping in the shower, and that it's sturdy enough to support your weight.