Seat lifts are mechanisms that gently lift the body from a sitting position to a standing position. If you are sitting in the chair, you may not have the leg strength to pull your body up. The spring loaded seat assist lift will raise your entire body with minimal effort from you. Then you can grab onto a table or the arm of the chair and pull yourself up. This spring up seat lift is for the elderly, anyone with knee problems, or wants to reduce the strain of getting up from a chair.
Seat lifts for Seniors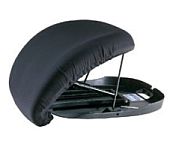 As people age, they need support, help and assistance in lifting themselves out of chair, couches and sofas. Seniors are especially vulnerable in these situations. If there is not a telephone or caregiver around, being unable to stand up from a chair can leave them trapped like a prisoner in a chair. Although this is a scary scenario, it is not an uncommon occurrence. Seniors will not be able to take the medicine that is time sensitive, nor will they be able to get food. By purchasing a seat lift for your elderly loved one, they can avoid this scenario.
Check out these recommended spring assisted seat lifting cushions. Check out the pictures below to get an idea of how this item would be helpful in getting a person out of their seat.
Blue Seat Assisting Chair Lift Supports 200lbs to 350lbs – Use this cushion to help an elderly stand up from a seated position.
Black Heavy Duty Lifting Cushions – Control your seat height with a power switch. Seat width is 17 inches. Uses electric power instead of a spring mechanism. Costs a bit more but is well worth the price if you require a specific height at which to sit.
Additionally, people can have injuries and they need the support and help in lifting themselves out of chairs and sofas. Knee and hip post surgery patients must minimize the amount of pressure and movement around their operated areas. Seat lifts can help these individuals with their rehabilitation and increase their chances for a speedy recovery. When you use these devices please place them on a sturdy seat and chair to limit the chance of injury. Also make sure the lifting cushions are firmly seated so they do not move back and forth.


There are a variety of seat lifts. The more mechanically complex seat lifts need a professional to install but most come preinstalled. These seat lifts are for large chairs and are also called lift chairs. They actually move the entire chair up and around in angles.
Then there are simple seat lifts. These simple seat lifts fit on the seat of a chair without a need for installation. The simple lift seats are placed on the seat of the chair and will boost the person who is sitting on the pad, up. The spring boost that comes from the seat lifts are not sudden jolts but rather a slow and gradually lift. You will not feel like you are being jerked up off your seat. These simple seat lifts can also be placed on a couch or sofa and become couch seat lifts for the elderly; any stable platform should work.



Chair Seat Lifts Placement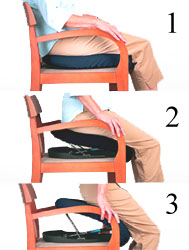 A seat lift can be placed on any sitting area such as a sofa, couch, recliner, chair or floor. The best things about a seat lift are the portability, ease of removal and power free use. With the spring loaded mechanism, the lift assists your body weight up as you shift forward to stand. Most simple seat lifts weigh about 7-9 pounds and can be customized to fit your weight. To lift more weight, you would have to adjust the spring coils tension on the mechanism. The lifting chair cushions raises up body weights from 220lbs to 340lbs.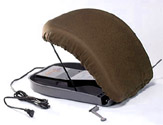 Seat lifts vary in price. There are some chair lift products for cars that are as inexpensive as $20. The more expensive electric powered seat lifts cost approximately $600. For a little over $100 you can buy a seat lift that fits in an average seat. If you qualify, Medicare may cover the cost of the seat lift.