A disabled person need not forgo the joy of camping or traveling. Life in a tent may be physically impossible or impractical, but an RV can be custom designed to adapt for every need of the disabled. Living in a RV camper that is already modified for every necessity allows the disabled individual some mobility without the hassle of restaurants and hotels.
To get inside, there are RV lifts and ramps available. The choice of floor plan and type of RV may have to be fitted with a wheelchair lift; however the toy-hauler variety is designed with a ramp available at the push of a button.
Accessible Benefits of RVs and Motorhomes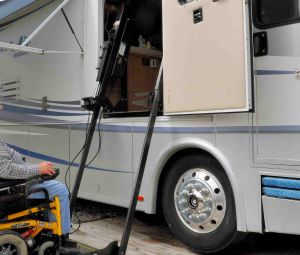 The interior can be modified to allow for the 36" minimum clearance for wheelchairs required by the American Disabilities Act if it does not already have it. Many of the RV models with slide outs provide much more interior room. The stairs in a 5th wheel recreation vehicle can be replaced with a ramp. Everything in campers or handicap motorhomes is secured for travelling purposes. Entertainment systems and heating/cooling units are usually placed above everything else and are easily accessed with the included remote control. Several models have large bathrooms and tubs with seats as standard handicapped equipment. A handheld shower head connected to sixty inch hose may also be included.
How to Determine Your RV Needs
As there are many types of RVs available, the decision of what to get is based more on personal lifestyle rather than special needs. A popup camper with a ramp will suffice someone who is content to use campground bathroom facilities. A towable travel trailer is larger and usually has a full accessible bathroom. Class A or class C drivable RVs are truly homes on wheels due to their large size and space. Purchasing one new may be expensive, but there are many pre-owned RVs for disabled people available.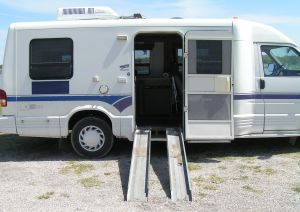 Drivable RV models can have the foot controls moved for an easier reach for your hands similar to any car or truck handicap hand controls. Accelerate and brake with just the use of your hands. There is nothing to stop a person with disabilities from exploring the country driving an RV that has been custom designed to accommodate them.