There are several major problems that may present themselves as people age. Physical infirmities (old age) and limitations may hinder a person's ability to remain independent in their home. If pain, weakness or balance begins to cause a person to need the help of another in order to rise from a seated position, this can cause ongoing stress on the caregiver as well as the person needing assistance. The elderly are in a particularly vulnerable position and require elderly lift chair assistance when they have to sit and stand from a lower chair.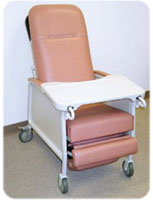 Some people who live alone put themselves at risk when rising from a chair due to medical problems. This can be fluctuating blood pressure upon standing, causing falls and injury from dizziness or weakness. Pain in the hips or back, knee pain or stiffness also makes rising from a seated position difficult and dangerous without assistance. For these reasons and more, a handicapped lift chair may be ideal for helping an elderly person stay safe when sitting or standing. Due to the added features of a lift chair, it can also assist a person with breathing problems relax in exactly the position that is needed for bodily comfort.
The image to the right is a geri recliner chair that comes with a tray table and three reclining positions, upright, deep reclining and an elevated legrest and footrest. You can choose from three color choices, red, green and blue.
Recliner Lift Chairs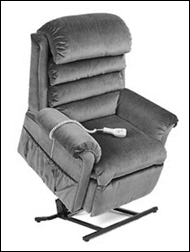 Lift chairs appear almost identical to a recliner lounge chair, but have electric hand controls. There are buttons that will slowly raise the chair to a semi-standing position. The person only needs to back up to the chair in the raised position and push a second button to lower themselves back to where they were. Another button will tilt the chair back and raise the padded foot platform to allow a person to sleep or relax. Other features and controls may offer heat, vibration, extra padding or extra large sizes. They come in a variety of fabrics and colors as well. With the many varieties available, you can go beyond just function and find one that fits the decorum of your home or office. For example, your lonely black leather couch can now be accompanied with a nice black leather recliner lift chair in your home. Many first time users of power lift recliners find themselves falling asleep in the living room because of the comfort and the many adjustable positions.

Easy Comfort 2-position Lift and Recline Chair
Helps those with arthritis or recently had surgery to sit down or stand up with ease. The 2 settings include a reclining position and a lifting position. Simple to operate. Prices range from $400 to $600.

Recliner Zero Gravity Padded with Padded Arms
Experience weightlessness with this "zero gravity" recliner. Lock in many angles from sitting position to reclining position. Relieves muscle tension and stress. Affordable and simple recliner.
This is a relaxing chair for the elderly and can help ease their ailments. Someone with breathing problems or COPD will find the semi-upright or angled positions of a recliner assist them in their sleep. Supine or flat sleep positions have shown to cause a buildup of mucus production and this makes it harder for those with breathing problems to sleep.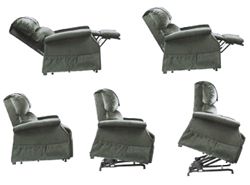 As as you can see in the picture, the recliner provides a nice angled backrest. It also lifts and tilts forward to make standing and sitting down easier for the elderly.
Power Lift Recliners and Medicare
The seat lifting mechanism part of the lift chair is covered by Medicare but not the whole chair. Power recliner lift chairs are partially paid for by most insurance plans with a doctor's prescription. It pays to discuss this with a physician to see if a person qualifies for this handicap equipment based on their medical need. Many medical supply companies carry a good selection of styles. Trying a few out before buying is always the best policy, as they may not accept the chair back if it is returned and insurance has already been billed.
If you are aware of someone in this situation and with a need for handicap chairs, consider exploring all the options to improve their safety, comfort and independence. Some elderly are reluctant in expressing their need for help in these awkward positions. Help make their lives easier by choosing seat lifts or lift chairs to assist in their daily lives.